Diversity, Equality and Inclusion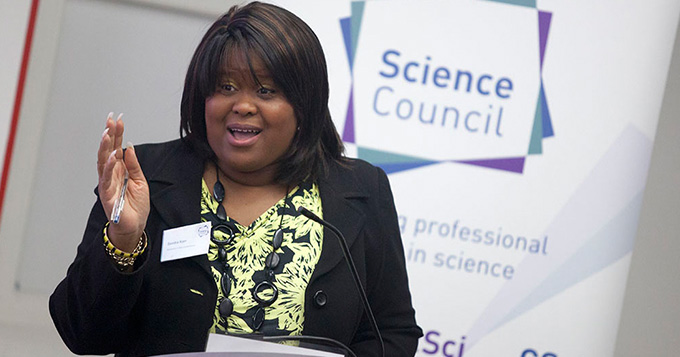 The Science Council has set itself a strategic ambition to work towards a science workforce that reflects the diversity of society, with a programme of work that engages members and other science professional bodies to share this vision.
"Getting diversity and equality right is a source of competitive advantage. More people want to join your workforce, there is greater creativity and much better connection with customers and stakeholders."

James Smith, Chair of the Diversity, Equality and Inclusion Strategy Group
Programme outline
The Science Council's diversity project aims to raise the profile of the importance of diversity as an issue of concern for professional bodies and to galvanise and foster an increase in effective action that will deliver positive change.
The Diversity, Equality and Inclusion programme of work includes:
Setting out a high level vision for what professional bodies should commit to work towards, the Declaration on Diversity, Equality and Inclusion;
Reviewing current activities and programmes led by professional bodies to identify and highlight good practice for particular sectors or audiences with potential for translation, replication, collaboration or increases of scale;
Identifying and promoting areas that would benefit from collaboration or a common approach across Science Council member organisations, and other professions or appropriate external bodies, particularly where individual action is uneconomical or a joint approach would serve to maximise impact;
Identifying guidance, training and support resources relevant to members, highlighting gaps in provision as appropriate;
Supporting benchmarking and monitoring of progress.
Declaration on Diversity
The Declaration on Diversity, Equality and Inclusion is the focal point for the project. Through signing the Declaration, Science Council members are being asked to commit to promoting diversity and to help the Science Council achieve its strategic aim of a more diverse science workforce.
Diversity, Equality and Inclusion Strategy Group
The Strategy Group provides a point of contact for other organisations on issues of diversity in the science workforce. Members of the Group are individuals with a commitment to diversity and relevant experience. Specifically the Group ensures that the Science Council's work complements that of the Royal Society and Royal Academy of Engineering who have been funded by Government to address diversity issues within their respective workforces.
The Strategy Group members are:
James Smith (Chair) Chair, Carbon Trust; formerly Chairman, Shell UK
Neil Bentley Chief Executive, Find a Future;
Jennifer Dyer Head of Diversity, Institute of Physics;
Bola Fatimilehin Manager of Diversity, Royal Academy of Engineering;
Nike Folayan Chair, Association for Black Engineers UK;
Sandra Kerr National Director: Race for Opportunity, Business in the Community;
Edmund Nickless; Science Council Trustee;
Daniel Payne post-graduate student, University College London;
Joanne Stuart Northern Ireland STEM Champion; Director, Attus Ltd;
Caroline Waters Deputy Chair, Equality and Human Rights Commission;
Polly Williams Diversity Programme Manager, Royal Society.
To become involved or stay up to date with this project please email Nicola Hannam.