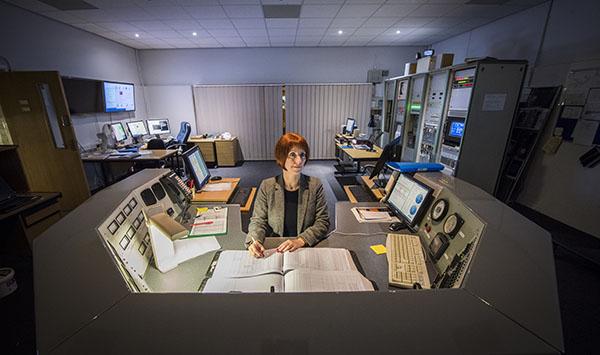 International Women's Day: Professor Carole Mundell reflects on her career as a woman in science
Image by University of Bath
To celebrate International Women's Day 2022, I interviewed Science Council President, Professor Carole Mundell, to find out about her experiences as a woman in science. The theme of this year's International Women's Day is #BreakTheBias. I wanted ask Professor Mundell about any biases she has seen in her career.
In conjunction with this conversation there is another piece focused on Professor Mundell's thoughts on the wider world of women in science which is available here.
Professor Mundell's biography can be seen on The President webpage here.
---
What were your experiences of science like at school and university? When did you start to notice any gender imbalances?
I had some great physics teachers at high school who really lit a spark. That was so important for me because it is such a male dominated field, I never doubted I could do physics.
I noticed a gender difference very much at A level. I was one of three girls in a class of 40 boys. The boys were all nice, but it was visceral to be just three girls clustered in the corner of the lab in a sea of boys. And it felt very alien. It took determination and a real love of physics to persist.
One thing that was important, looking back, was that as I went into the second year of studies, all my physics and maths teachers were women.  And important counterbalance to the gender ratio in class and a boost to one's confidence.
The trend at university was reversed  I remember having only one woman lecturer in my whole undergraduate degree across physics, maths and astronomy!  It was stark. A clear signal to women that you don't belong; you suddenly think "how can there be a place for me in this field?". One high point was when Professor Dame Jocelyn Bell Burnell gave a talk to the student astronomy society in the first year of my degree. It showed that at least one eminent woman had 'made it'. Her talk was captivating and, I think, laid down a quiet expectation that there could be a place in this profession for me after all.
I also realised quickly that networking was important, for my resilience and my sanity check saying, "actually there is a place for me here". I love the subject and I'm actually very good at it and therefore I have the right to see where it will take me.
What about when you went further to PhD level? Did the number of women around you get even smaller?
I went to Jodrell Bank Observatory to do my PhD in radio astronomy. I was very fortunate at PhD, it was a male dominated environment, but it was incredibly supportive. I was very unaware of gender. In some ways it was a remedy from my undergraduate shock. We were celebrated for the work we did. It felt possible, I could come up with an idea. There was a sense of belonging and you were part of the observatory. There was a real sense of pride that "you are one of our students, you are our ambassadors in the world". Sir Bernard Lovell, who founded the observatory and built the famous Lovell radio telescope, often came to the observatory, though long retired. He was interested in the work we did as students and was very encouraging to us. I loved that environment, that gave me the strength and the courage to look at a research career. I spent some time at the University of Manchester in the physics department there too, in the optical astronomy group working on instrumentation with Professor John Meaburn. That showed me I could be versatile.
You then secured a post-doctoral position in America. Were there differences in the gender balance there?
No, it was still pretty male dominated. There were a couple of women professors which was important because they had made it to professor. They were very senior, very accomplished. That was good because then you start to see a path. You think "this is possible, there is a destination here". Again, the men were very supportive. It was one of those warm environments, "you're ours, you're in our department". I had a wonderful experience there. Very fast paced and quite different to the UK. I made life-long friends and collaborators.
How have you addressed some of the barriers you've seen for your female students?
I've done a number of things formally and informally to support female students through my career. Sometimes, tackling sexual harassment or unethical behaviours towards them for example around data rights. Other times, more structured support for women's career development and recognition. I think it is important to nominate women for awards, so they also believe in their own accomplishments. It's wonderful to see the surprise and pride when one of one's nominees wins!
At the University of Bath, we noticed that undergraduate women students could be more cautious in the labs than their male counterparts. This was a confidence, rather than a competence gap. We set up a thing called the maker lab to provide an assessment-free environment to experiment. I believe science is fundamentally creative; we all need space to play, to discover.
We also set up a Network for Women in Physics. As Head of Department, I was able to support an incredible group of young women in their final year of physics to set up a sustainable network that supports, showcases and celebrates the science and technology that women physicists research and develop across our department from undergraduate to Professor. It's been wonderful seeing this work develop over the past few years and our women go on to new successes. Because they're not the majority, it's still not 50-50.  That's work in progress!
Moving on to your role in the Foreign, Commonwealth and Development Office, what did you notice there, in terms of women in policy and advisory roles?   
The Foreign and Commonwealth Office had, in the past, been very traditional but there had been much work to drive systemic change over the years. During my time there, I was fortunate to work with some incredible role models, men and women. It was striking to me how many visible senior women leaders there were in the FCDO, and other Government departments, compared to my academic environment. The UK now has women ambassadors in big posts round the world: Beijing, New York, Washington, Berlin and Paris, to name a few.
I oversaw the work of the global Science and Innovation Network of over 100 science and innovation attachés in our embassies around the world. Talented women and men building relationships for UK science partnerships and, often, supporting our ambassadors to place Women in STEM at the heart of their in-country science engagement campaigns. This was important for showcasing the work of women scientists, talking frankly about workplace barriers such as harassment in our different countries, and building new international collaboration networks.
How did it feel to be the first woman in this role? 
It was exciting and an honour. It felt like another barrier broken. My Chief Scientific Adviser predecessors, Professor David Clary and Professor Robin Grimes, were very supportive and my FCO colleagues very welcoming. There was a nice tradition of celebrating barrier-breaking women, the FCO mirror wall in which each major diplomatic role that had not yet been held by a woman, was represented by a mirror so that any woman could see herself in that role. Each mirror was then replaced by the photo of the first woman appointed to the role. It was symbolic and practical. One could gradually progress as mirrors turned into photos, and the stories of the women's career journeys celebrated.
It was quite iconic being the first woman Chief Scientific Adviser at the FCO UK, a major ministry of state, providing science advice to ministers and the Foreign Secretary and projecting UK science excellence around the world. It was important also to showcase other leading UK women scientists in our international work. Whether as a senior representative of UK Government or a senior scientist, it is important to be a visible sign of progress; to show what is possible.
---
Professor Mundell is also the first female President of the Science Council. 10 of our Member Bodies have female Presidents and 13 have women Chief Executives or Leaders. We would like to wish everyone in our membership community and beyond a happy International Women's Day!
Equity, Diversity and Inclusion (EDI) is a core objective in our new strategy. Read about our progress and continued commitment to this area of work here.