The President
The President represents the Science Council and leads in key strategic areas of the professional registration, influencing science policy, strengthening and supporting science education and the numbers who are engaged in and appreciate science, and ensuring that the Science Council continues to grow both in size and influence. The President is elected by Member Bodies for an initial four-year term and is eligible for election for one further consecutive term of up to four years.
Professor Sir Keith Burnett FRS, President (2016-2020)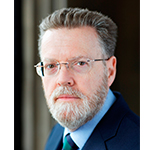 Keith is a physicist with particular expertise in lasers and optics. His work includes research on Bose-Einstein condensates.
He has worked as a scientist in the U.S., at Imperial College in London and taught at The University of Oxford for 20 years where he was Chairman of Physics and led the Division of Mathematical, Physical and Life Sciences.
In September 2018, he retired as Vice-Chancellor of The University of Sheffield, having held the position since 2007.
He has been a longstanding advocate of professional recognition for scientific technicians in the UK through the HEaTED programme, an area where Sheffield has led nationally.
He was a member of the Board of the UK Atomic Energy Authority and has advised the UK government on energy and infrastructure investment. He is a member of the UK government's Council for Science and Technology and joined the HEFCE management board in March 2015.
His links with industry include leading work on advanced manufacturing in aerospace and nuclear technologies, and he is the Chair of the Sheffield City Region Science and Innovation Board.
Sir Keith was knighted for his services to Science and Education in 2013.
Download the President's role description.