Megan Black RSciTech, Materials and Analytical Support Scientist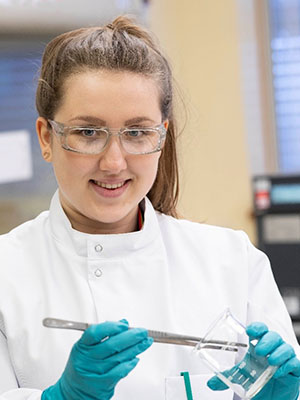 "If you are looking to gain hands on professional experience, develop your own skill set while earning a salary then I'd highly recommend considering an apprenticeship."
Why did you decide to apply for an apprenticeship?
The main reason I decided to apply for apprenticeships was because I wanted a career where I could gain qualifications and valuable experience within the field of science, all while being paid to do so – and apprenticeships are perfect for this. I personally wanted a change in education as I couldn't see myself sat in lecture halls for the next 3 to 4 years of my life to obtain a degree when there was no guarantee of a job at the end of it.
How did your apprenticeship impact your career path?
My apprenticeship has given me the chance to develop my skills and gain a plethora of experience from groups all around the business. I did this by completing 3 lots of 6-month placements in different areas of my company, ranging from Radiochemistry and Dosimetry to Materials Characterisation and Modelling Support. Each placement presented new knowledge and taught me new skills which ultimately enabled me to pass my apprenticeship at a distinction level and secure a job in the group of my choice. I also now have the option to do a degree in my field of work and further my own qualifications even more which is incredible!
What skills or experiences did you value most from working as an apprentice?
Working as an apprentice and moving around the business has greatly benefited both my personal and professional skills as well as giving me lots of great experience. Every day I would work alongside senior scientists who are at the top of their field to teach me the skills I need to progress in my role; such as laboratory health and safety, training in procedures and the quality aspects of our work. You meet amazing people along the way ranging from fellow apprentices and graduates to scientists and managers and as a result I now have friends and colleagues across the company, which is invaluable when I need assistance in work that is outside of my remit.
What would you say to young scientists who are currently in, or thinking about starting an apprenticeship?
Apprenticeships have advanced hugely over the past couple of years and they are now a very common form of career progression, with science apprenticeships becoming much more readily available. If you are looking to gain hands on professional experience, develop your own skill set while earning a salary then I'd highly recommend considering an apprenticeship. They are available at a wide range of levels, some of these even being degree apprenticeships which give you the opportunity to earn a degree without the university debt!
How has Professional Registration with the Science Council made an impact on your work or career?
I achieved my RSciTech award in January 2021 and to know that I have been deemed competent against an international standard for scientists by a professional body is amazing! It has boosted my confidence in myself and my work and it's also reassuring for my colleagues to know that they can trust me to deliver work to a certain standard, meaning I gain even more experience. It has really motivated me to keep learning and furthering my professional development and the feeling of being accredited is really rewarding!
Finally, I'd like to think it encourages the younger years of apprentices to also one day complete their RSciTech as if I can do it, they can too! In the future I also hope to put my experience to use and become a mentor to coach others through their RSciTech process and help them reach the next step in their career.
What do you value most from being a member of your professional body?
As a member of the Royal Society of Chemistry I have access to lots of development tools such as interesting lectures and events all enabling me to enhance my continuous professional development (CPD). This is something I must maintain and its great that the RSC provides resources such as helpful articles and talks on how to support this as well as the steps needed should I wish to complete the next steps in my professional registration to become an RSci.