CPD Awards 2021: Top Tips
11th November
Russell Wilson, Winner
Laboratory Technician in Sport, Exercise and Health Sciences, Edinburgh Napier University
I started working at Edinburgh Napier University after leaving school at 17 years of age and was hired as a trainee laboratory technician within the Sport, Exercise and Health Sciences team. As part of this job I was enrolled onto the undergraduate degree course as a part time student. After two years I was promoted from trainee to laboratory technician, and after 8 long years of part time study I graduated from the degree course.
My main duties include the maintenance, calibration and preparation of laboratory equipment and the demonstration of its use to both students and staff. The role also requires me to work directly with athletes or teams in relation to fitness testing and acclimatisation before competition, as well as clinical populations for health intervention studies. The role is a very hands-on, student-centred position, focusing on delivering a great student experience.
Raewyn Freestone RSci, Commendation
Cambridge Consultants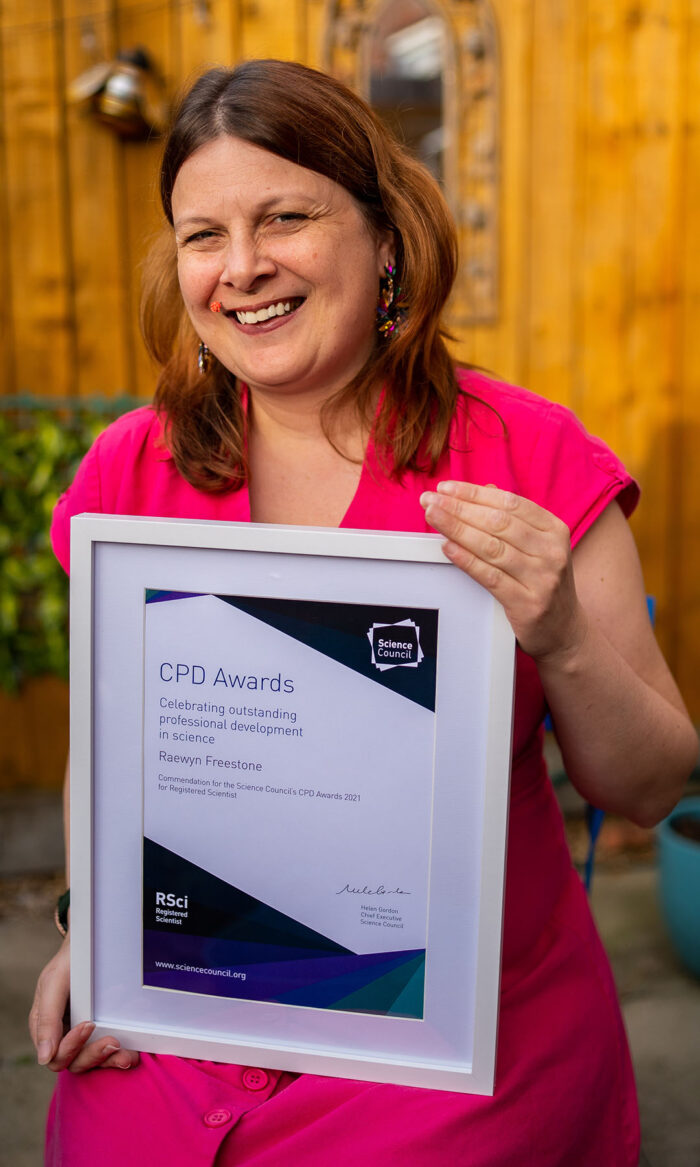 I have always been passionate about science and technology ever since I was a child and as an adult I have worked in a wide variety of industries throughout my career. I studied Food Science at Nottingham Trent University and since my graduation I have worked in forensics, the food industry, pharmaceuticals, medical devices, e-cigarettes, genetics and I now work for a design consultancy that develops innovations for clients.
I would describe myself as a multi-skilled laboratory technician thanks to my work in so many different fields. I feel that I have a good mixture of lateral and logical thinking in my approach to day-to-day work. With that in mind I have always been the kind of person who is willing to try something at least once this has helped me not only gain knowledge and skills, but it has increased my confidence in my work.
I also have an array of weird and wonderful hobbies such as ghost hunting, travelling to new places (Covid permitting of course), running (I ran my first Half Marathon at Disneyworld in January 2020), reading, watching cult movies, Cosplaying at Comic-Con and I always try to attend the Peterborough Zombie Walk every year which is the only time I spend more than 10 minutes putting makeup on.
Lorraine Allan RSci, Commendation
Head of Technical Services, University of Strathclyde, Institute of Pharmacy and Biomedical Sciences
In 1993 I gained my BSc in Chemistry from the University of Strathclyde. I started work as a technician in the Department of Bioscience in 1994.  I managed and maintained the food biochemistry and sensory analysis research laboratories using my background in analytical chemistry for flavour and food quality analysis. The research I was involved in centred on the study on flavour release, of whisky, wine and cheese. The work involved going to conferences and being named on several publications. In 2006, I moved to SIPBS becoming a senior technician involved in managing both staff and the chromatography facility. In 2015 I became the Deputy Head of Technical Services and then Head of Technical Services in 2018.
In my current role, I cover all aspects of general personnel management, recruitment of new technical staff, reviewing technical re-grading forms, attending to estates and building matters including the refurbishing of laboratories. I manage safety and security ensuring compliance with relevant University Occupational Health and Safety Policy and statutory regulations.
At Strathclyde, I have been given the opportunity to complete a range of training courses both in management and safety. I hold an Institute of Leadership and Management (ILM) level 3 award and a certificate in Managing Safely from the Institute of Occupational Health and Safety. I am a Member of the Institute of Science and Technology (MIScT) and a Member of the Institute of Safety in Technology and Research. I am currently a registered scientist through the Science Council (RSci). In 2018 I received a commendation for my CPD from the Science Council. In 2014, I received Merit Certificate to recognise my outstanding contributions to health and safety at work by The Institution of Health and Safety  (IOSH) West of Scotland. I am committed to keeping my skills and knowledge up to date through CPD. I encourage other technical staff to benefit from the opportunities they have for development. I am a Science Council assessor for registration applications for both RSci and RSciTech.
I was part of a focus group that designed a development programme across the University for all technical staff which was implemented by the University Organisational and Staff Development Unit. Staff who complete the training gain an Internal Strathclyde Leadership Development  Award. A key feature of the programme is beginning the process of continual professional development (CPD) and working towards gaining Professional Registration through the Science Council or the Engineering Council. Participants may also wish to work towards gaining Associate Fellowship of the Higher Education Academy.
Top Tips for CPD
Continually update your CPD record throughout the year. Write down notes, dates etc. and expand with more detail later. This helps make your annual submission easier.
Reflecting on how you and others benefited from a CPD activity is so important as it really makes you think about your development and what it also means to others.
Plan the year ahead by looking for activities that will assist you in your professional career but also make sure they interest you.
10th November
Mark Cioni CSci FIBMS FHEA, Winner
Senior Lecturer in Biomedical Science at Nottingham Trent University
My name is Mark Cioni and I have been a Senior Lecturer in Biomedical Science at Nottingham Trent University for just over 3 years, following a 22-year career in NHS microbiology labs as a Biomedical Scientist.
I began my career after graduation from Staffordshire University and began working as a Medical Laboratory Assistant at the Public Health Laboratory Service in Stoke-on Trent. Whilst I was there, I became a registered Biomedical Scientist and, whilst I was doing my Masters degree, I was promoted to the Role of Senior Biomedical Scientist.
Following my promotion to Lab Manager within Path Links Pathology, I undertook a management qualification and became involved in the NHS Improvement Lean Programme. After just over 7 years as Service Manager for a County wide microbiology service, I thought that it was time for a different challenge. It was then that I made the move into academia.
My top tips for CPD:
Record your CPD often. Whist I know that it is difficult to do this all of the time, it is the key to ensuring that the recording of CPD does not become an onerous task. Life does take over and you can easily forget to record your CPD. However, I have got into the habit of recording at least monthly. Getting my wage slip each month reminds me that is it time to update my CPD record (the carrot and stick approach).
Keep a diary. I have been doing this for 10 years now and it is invaluable. Especially in the early years, when I wasn't recording my CPD as often as I am now. I got into the habit of writing down what I did during the day in a diary. Things I knew were CPD, I annotated with an asterisk and then just recorded all the tasks I performed as the day went on. When you eventually come to record your CPD, at least you will have a record of what you did and when. I even found that activities that I did that I didn't flag has having an element of CPD, I was able to apportion some CPD to them on reflection. Another benefit of having a diary, is that you can also log any 'off the job' CPD really easily. If you have heard something on the radio on the way into work, watched a television programme where you learned something, or chaired a parish council meeting where you were able to use your knowledge to benefit others, it can be added to your journal and, later your CPD record.
Find out the format of your professions CPD audit process. If you find out the format of how you may be audited, and then use this as a template for logging your own CPD. Then, if you get called on to have your CPD record reviewed, then it is just a case of dragging and dropping your CPD into the audit template (and you can avoid a lot of time being spent on amending your CPD record to fit the format).
Victoria Moyse CSci, Commendation
Laboratory Training & Organisational Development Manager
I am a Biomedical Scientist working within a clinical pathology service. My current role is focused on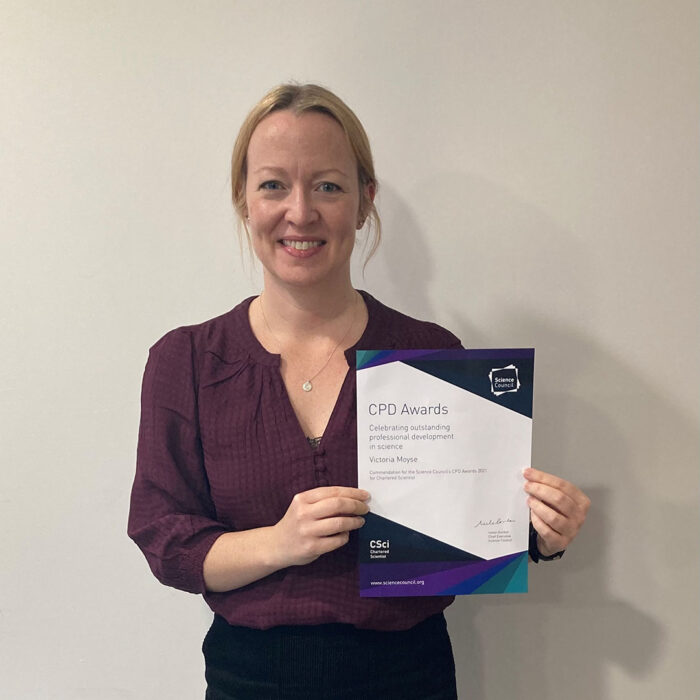 designing and implementing training programs to support people working towards registration as a Biomedical Scientist, and to develop laboratory education to help practising Biomedical Scientists enhance their professional knowledge and skills.
I have a great team of Training Officers who help to do this across a range of laboratory disciplines. It's a very rewarding role, I love seeing our trainees succeed and progress in their careers.
My top tips for CPD:
You are doing CPD all the time, every day in your role, probably without even thinking about it! It doesn't always have to be something formal, or a set event, it could be representing your team at a meeting, or helping to solve a problem, or training someone else – try to record a few examples little and often, if you are short in time you can always go back to expand or reflect upon things later!
Remember CPD isn't just about your technical knowledge or achievements. Good communication, leadership skills and teamworking are all important elements of what make us effective and good at our jobs, so recording and reflecting on day-to-day interactions or on how you are developing these skills in your role is equally valid and important because it will contribute to the impact of your scientific knowledge and expertise.
If you attend a course, or undertake training on something new, think about what you are hoping to gain by doing the training and why it will be useful to you and your service users – write that down before you do the training. Afterwards it will help you reflect on what you learned or gained, how it will be useful, or even if you still need to learn some more.
Dr. Shashi Ravi Suman Rudrangi CSci, Commendation
Product Development and Commercialisation Manager (Technical Head)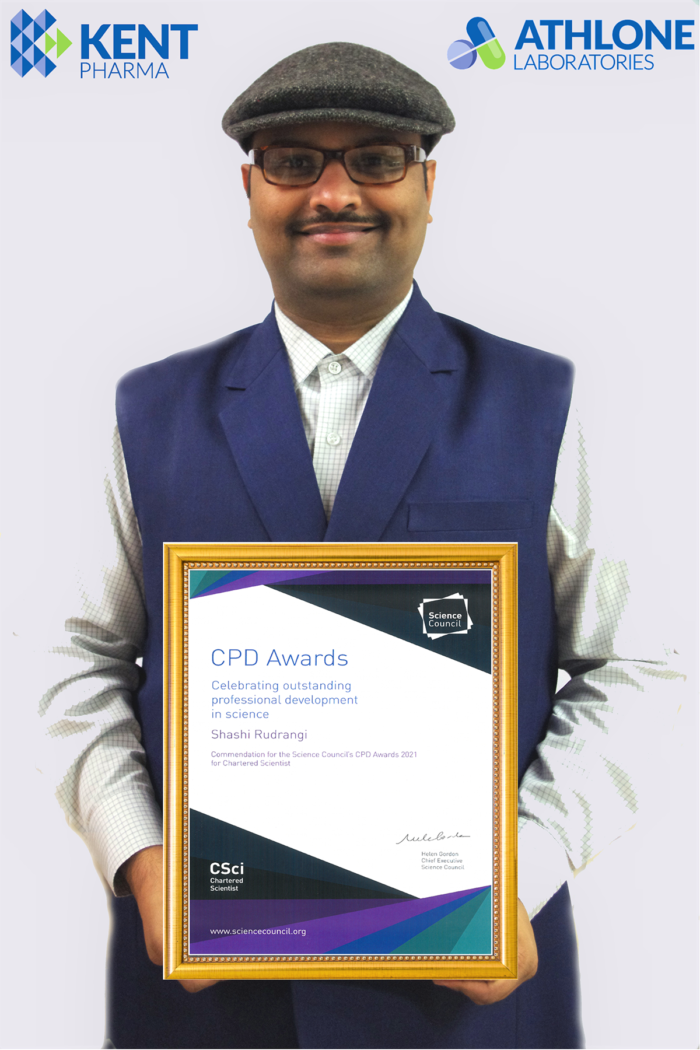 I am currently working as a Product Development and Commercialisation Manager (Technical Head) at Athlone Laboratories Limited, part of the Kent-Athlone Pharma Group, UK and Ireland. I am diversified with 10+ years of experience in formulation research and development, project management and oversight ranging from project inception to final deliverable.
As a Chartered pharmaceutical scientist, I use specialist knowledge and broader scientific understanding to develop and formulate novel drug products and dosage forms. I investigate new ideas to improve efficiencies in existing processes to reduce costs, develop new formulations to add to our portfolio of drug products. I develop formulation technologies from laboratory scale research through large scale pilot production of conventional and modified release oral solid dosage forms leading to European markets.
I also spearhead the transfer of these technologies to various contract manufacturing organisations in Europe and Asia. I provide expert input into formulation and process studies to other disciplines such as Analytical Development, Quality Assurance, Regulatory Affairs and GMP manufacturing to ensure efficient operations.
My top tips for CPD:
Get involved in a professional body or networking group
You can gain a wealth of knowledge and opportunities by joining a networking group or by involving in a professional body of your interest. Being professionally registered demonstrates an individual's commitment, competence skills, knowledge and understanding within the profession.
I developed my professional qualities by joining the Royal Society of Chemistry (RSC) which offered me great opportunities of sharing contacts, ideas, and expertise. Through the Formulation Science and Technology interest group, RSC allowed me to widen my network and reach out to formulation and chemical scientists worldwide.
Volunteer
Volunteering can boost one's career and adds to the continuing professional development (CPD). Hailing from a family of teachers, I feel very happy and motivated in teaching. I deliver several invited lectures (voluntarily) to the postgraduate Pharmaceutical and Formulation Science students worldwide.
Volunteering gives an opportunity to gain leadership skills and management experience and offers space to give back to your community giving you a sense of self-accomplishment. It further helps you personally, boosting your self-confidence and self-esteem and professionally, in overall career progression.
Reflect on what you have already achieved or learnt
Before you plan your next objective and make the direction more concrete, please reflect on the qualifications and skills you have already achieved or learnt. It's worth to write down your overall career goals and aspirations, this helps to identify the gaps in your skill set and reflect on how you can build on your skill set in future.
The pharmaceutical industry is constantly evolving with latest breakthrough technological advancements and as a pharmaceutical professional I need strong technical skills, scientific knowledge, and a commitment to learning in order to solve complex issues and develop innovation strategies.
The requirement to maintain the CPD makes me feel involved and up to date with the latest scientific advances. CPD is a life-long endeavour, keep an up-to-date record of your learning and thoughts in whatever way suits you best. You may write things down in detail or make notes on insights and learning points.