Gary Thorpe RSciTech, Laboratory Technician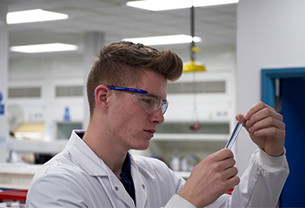 "Having been awarded professional status is extremely motivating."
At the beginning of last year I was encouraged by my manager to apply for professional registration. I have worked as a Laboratory Technician for Anglian Water for around 4 years now, starting as an apprentice, and felt I had built up enough knowledge, skills and experience to apply.
I was extremely pleased when the Registered Science Technician certificate came through the post. The rewarding feeling when your efforts have been recognised is brilliant and having been awarded professional status is extremely motivating and has fuelled my enthusiasm to continue learning and building more experience.
The certificate has given me more confidence, demonstrates my commitment and shows that I keep the highest standards of quality in my work. I would encourage anyone who is thinking about applying for professional status to get the application filled out and sent off, because it will present new opportunities and better career prospects.
Become professionally registered
Have you been inspired by Gary Thorpe? Find out how to apply to become a Registered Science Technician (RSciTech) here.