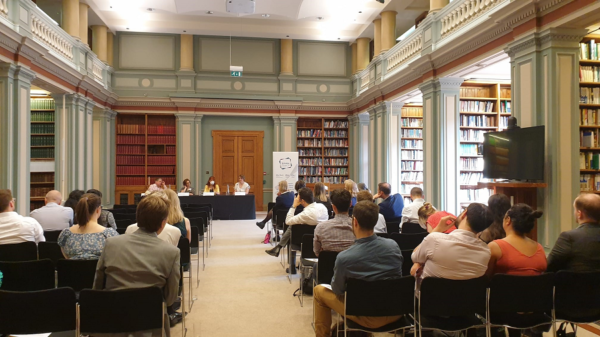 International Collaboration in Science
Above is a video recording of the panel discussion
On Wednesday 15th June the Science Council held a panel discussion and networking reception to explore the complex challenges and opportunities in International Collaboration in Science.
Background
Science is a global endeavour and benefits enormously from collaboration. The UK scientific community has been broadly united in its support for greater international collaboration and for the UK to participate in programmes such as the EU's Horizon Europe.
However, the need to safely balance the risk and benefits of international collaboration, and embed integrity and due diligence in stakeholder relationships and inward investments have led the UK Government to enhance guidance and protection through various trusted research initiatives and new legislation. Following Russia's invasion of Ukraine, there have been calls to suspend all scientific collaboration with Russia, though this also raises ethical questions around other collaborations with scientists living under other authoritarian regimes around the world.
The Panel
The panel consisted of four expert speakers with a range of experience on this topic including Science Council President, Professor Carole Mundell who was previously Chief International Science Envoy at the Foreign, Commonwealth & Development Office. She was joined by Professor Sarah Main, Executive Director of Campaign for Science and Engineering (CaSE), Vivienne Stern MBE, Director of Universities UK International and Stephen Wordsworth, Chief Executive of Council for At-Risk Academics (CARA).
At the end of the panel discussion there was an opportunity for a Q&A. The audience asked such questions as:
"At what point do we, as a science community, pivot from talking about the benefits of the UK being involved with Horizon Europe to creating a case for UK research existing outside of Horizon Europe" 
&
"Other than funding and the outbreak of international conflict what are the other issues the global science community need to be focusing on" 
Thank you to the speakers for an insightful discussion and to those that attended. If you were unable to attend the event the video recording can be found above.
This is one of several policy events we have planned for 2022. We have worked in partnership with our members to design these events, for them and the wider science policy community to attend.