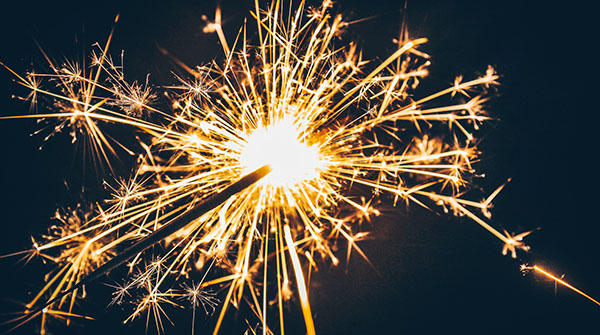 Trustee Week 2021 – Thank you!
Trustees' week is an annual event to showcase the great work undertaken and provide opportunities for new colleagues to get involved and make a difference.
The Science Council would like to thank our Trustees for playing a vital role, volunteering time and working together to make a difference in science.
Meet our Trustees below:
Adam Donnan, Chair of the Board
"My domain is environmental science but being part of the Science Council lets me see what the challenges and opportunities are across the science sector, and how they may differ from, or resonate with, our own."
Adam is a Chartered Environmentalist and has worked for the Institution of Environmental Science in various roles since 2006. In 2013 he was made the organisation's first CEO.
Between July 2014 and March 2015, he was also the Interim CEO of the Society for the Environment, an umbrella body for registration, bringing together 24 professional institutes. He has held board positions as Vice President of the European Network of Environmental Professionals (ENEP) and was a non-Executive Director of Change Agents UK (2011-16).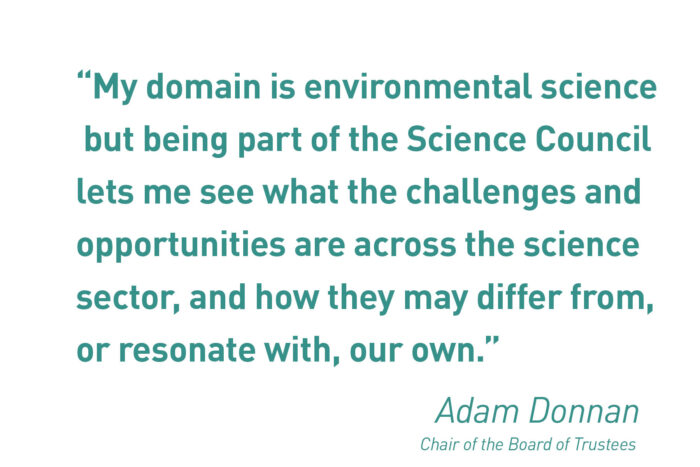 Dariel Burdass
One of our latest trustees, Dariel is Chief Executive of The Physiological Society and a member of the Royal Society of Medicine. She has worked for over 20 years in the learned society sector initially for the Microbiology Society and now The Physiological Society.
She has a broad portfolio across the complete range of functions that underpin the position of Chief Executive from strengthening strategic direction, delivering major governance reforms, performance measurement, stakeholder engagement, digital leadership through to oversight of major operational initiatives.
Rachel Lambert-Forsyth, Diversity Champion
"Working with the wider Trustee Board and professional staff team is a real joy – it allows me to remain connected with my peers, build relationships across the wider scientific space and also give back my expertise to an organisation that is championing science and scientists in an impactful way.
I have thoroughly enjoyed my years on the Board to date and am looking forward to the future and growing the impact of the Science Council for the benefit of the scientific community."
Rachel Lambert-Forsyth is Chief Executive of the British Pharmacological Society (BPS) and Managing Director of BPS Assessment Ltd. Working closely with the BPS Council and senior leadership team, Rachel is responsible for delivering the vision, mission and strategy of the British Pharmacological Society, and its subsidiary companies.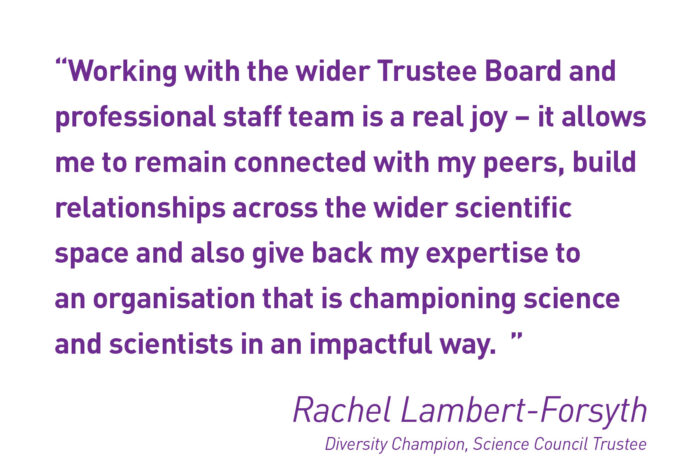 Dr Samantha Cheung
Joining Dariel in our latest cohort of trustees, Samantha is a science communications consultant with over a decade of work experience holding communications roles at the Royal Society of Chemistry, Syngenta and more recently within healthcare PR agencies. She possesses a range of different skills, including strategic communications programming and delivery, stakeholder management, media relations, social media, and project management.
Samantha is a chemist by training, and holds a first class MChem degree with honours from the University of Oxford and a Medicinal Chemistry for Cancer PhD from the University of Cambridge.
Mark Finnie, Honorary Treasurer
Mark is a member of the Chartered Institute of Management Accountants and is Executive Head of Finance at the Institute of Biomedical Science (IBMS). As a member of the senior management team he participates in setting the strategic direction for the organisation and making sure a sustainable business model is in place.
He supports the trustees to make sure there are suitable governance arrangements and financial controls in place.
Dr Paula Haynes
Paula joined us in 2020, alongside Philippa Martinelli. Paula is a Risk Manager and Board Advisor with a background in International Banking and Asset Management covering 25 years. Specialist areas include Financial Markets, Credit and Operational Risk, Business Resilience, Governance and Regulatory Affairs. She has a track record in the implementation of Risk frameworks and related quantitative models and Technology.
Alison Hemsworth
Alison joined the Board of Trustees recently, in 2021. Alison is a pharmacy technician registered with the General Pharmaceutical Council. Through her work with the NHS she has led on many high-profile national projects relating to community pharmacy; the most notably, the introduction of the Community Pharmacy Seasonal Flu Vaccination Service.
Ruth Kaufman
"I love being a Science Council trustee because it gives me the chance to be continually learning, to work as a team with interesting people I would not normally get to meet, and to feel that I am usefully sharing my skills and experience."
Ruth Kaufman is a Companion of OR (Operational Research) and a former president of the OR Society. She is a trustee of Humanists UK and also currently Chair of the EURO Working Group on Practice of OR, adviser to the Finance Committee of the National Federation of Women's Institutes, and undertakes a variety of other activities including freelance consulting. She was awarded an OBE for "Services to Operational Research" in the 2016 New Year's Honours List.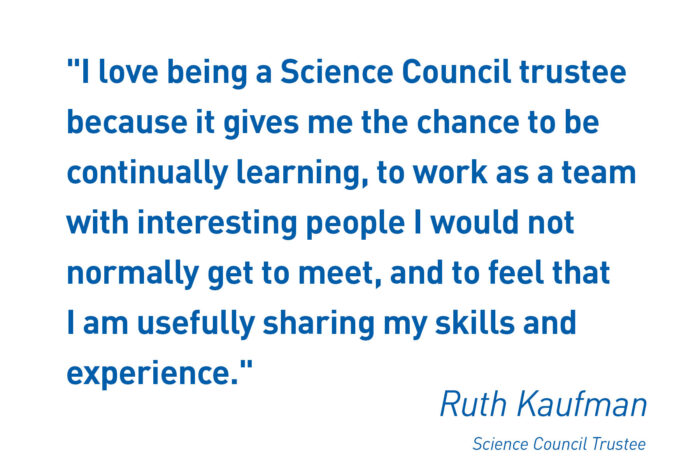 Philippa Martinelli
Joining us recently in 2020, Philippa is an Independent Advisor, working with international governments, regulators and businesses in the Financial Services and Technology space. She engages globally to reduce market access, policy and regulatory barriers for businesses and to promote collaboration and competition. As a Board member, investor and business advisor, Philippa supports companies with strategic development, building partnerships and scaling internationally. She leads on initiatives including FinTech Bridges for the UK Government and consults on implementing approaches to innovation.
Dr Arthur Nicholas FIScT FRSB
Arthur has worked closely alongside the Science Council, joining the Board of Trustees in 2018. Arthur is Vice President of the University Bioscience Managers' Association (UBMA). As an executive committee member for the Institute of Science and Technology (IST) he currently serves as its Education Officer and is Chair of its Education Board; he is a Specialist Advisor to the National Technician Development Centre.
During a long career as a professional Scientist and Management practitioner at the University of Manchester, Arthur became highly knowledgeable of and skilled in the effective delivery of research, teaching and professional services in the UK's Higher Education Institution (HEI) sector.
Jane Pritchard
Jane is the Chief Executive of the Association for Clinical Biochemistry & Laboratory Medicine (ACB), one of the Science Council's member organisations.
She is leading the delivery ACB's strategy and ambition to become the voice of laboratory medicine representing and influencing the interests and professional development of healthcare scientists with government, industry, media and patients.
Catherine Ross CSci
Also joining the team in 2020, Catherine is a Chartered Scientist and Clinical Scientist and has worked within the NHS for over 25 years.
She is currently the Chief Healthcare Science Officer at Scottish Government, previously having held the role of Scientific Lead at the Office of the Chief Scientific Officer for NHS England, and has spent most of her clinical career specialising in Cardiac Ultrasound.
Lorraine Turner
A Chartered Chemist, Lorraine is currently the Accreditation Director at the United Kingdom Accreditation Service, UKAS, where she is responsible for setting, driving and maintaining technical policy, customer service standards and management of business risks.
Lorraine also oversees the external affairs and international technical engagement strategy for UKAS and leads the development of new accreditation services to ensure they meet the highest technical standards.
Joan Ward
Joining the Board in 2018, Joan is a Fellow of the Institute of Science & Technology (IST) and currently operates as their Finance Officer and Deputy Chair.
The IST is one of the Science Council's Member Bodies, licenced to award registration at RSciTech, RSci and CSci levels. She is involved in developing strategy for the Institute, controlling finance and administration functions and acts as an external representative for them. Prior to taking up her role with the IST, Joan's career was spent in Higher Education at the University of Manchester.