Rodzers Zalitis RSciTech, Laboratory Technician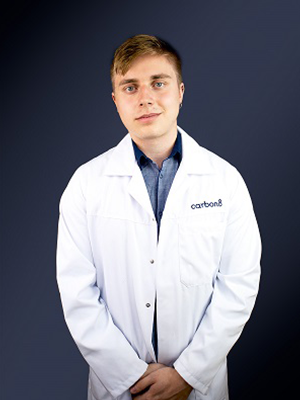 "I found the (shortened application) process streamlined, straight forward, with lots of useful help and support that clarified the requirements of the application."
Why did you decide to apply for an apprenticeship?
During my GCSE's and A Levels I wasn't sure of my next step.
At school and sixth form, I attended presentations of apprenticeships and it caught my interest.  There was a lot of peer pressure to move on to university, especially as I did well in my studies, but I had concerns over the debt of loans, especially if I didn't enjoy the degree or university experience.  I was also unsure at that time of what my career could and would be.
Following these presentations, I researched online and was excited by the opportunity of apprenticeships and how they covered so many vocations, although at that time science apprenticeships were harder to come by.  Following the completion of my A Levels, I used the government apprenticeship website and found and applied for a Laboratory Technician apprenticeship with Carbon8.  I then went through an interesting interview experience with the training provider and employer, that included practical tasks.  I was overjoyed when I found out that I was successful in being offered the apprenticeship.
How did your apprenticeship impact your career path?
Through strong working relations with my tutor of the training provider, and my workplace mentor (line manager), the apprenticeship gave a structure for lots of opportunity that tested my skill and abilities.  Having access to this experience has allowed me to ask questions to clarify procedures and task requirements.  The apprenticeship also provided opportunities with travel, with experiences such as being part of the team that worked on the deployment of the Carbon8 CO2ntainer plant to AVR, an EfW plant in the Netherlands.  This has required direct engagement with engineers and offered a real-life experience of international work.
The apprenticeship challenged early and continuously.  My employer and training provider supported me in a partnership that developed real world work skills, with the ability to engage internally and externally.
I have progressed onto and just completed my first year on a Chemical Engineer Degree apprenticeship.  I have a keen interest in chemistry and am finding this apprenticeship a great way to consider and develop how the theory of science applies within the engineering environment of my employment.  I intend to use this to apply for Registered Scientist – RSci when I can do so.
What skills or experiences did you value most from working as an apprentice?
I developed a wide knowledge of the sciences, but what I most value is the professional experience of working in industry, working in the real-world and applying my knowledge in this way.  I was regularly pushed out of my comfort zone to communicate and report with clients, and through this experience my confidence and ability grew.  These experiences have helped me to understand how theory works in practice and how to work within a team.
What would you say to individuals who are thinking about starting an apprenticeship?
If you want a career in the sciences, in roles such as Laboratory Technician, don't feel pressured to go to university, as apprenticeships offer a viable and alternative option.  I'd advise to evaluate what you want from your next step, and if it includes professional experience with career progression then apprenticeships can deliver.
In the end its' about knowing your options and not feeling pressured either way.  Yes, there are the traditional routes still, but there are other options available too.  It's about breaking down the bias within the sciences and understanding that the routes to successful and rewarding careers can be achieved in other ways, with apprenticeships forming a strong example.
What were the key motivations that led to you applying for professional registration (RSciTech)?
As an apprentice I was an affiliate member of the Royal Society of Chemistry (RSC).  It was exciting to be part of this community and offered fun ways of learning such as the chemistry of beer tasting.  When I completed my apprenticeship, I intended to apply for professional registration but at that stage didn't have the time to complete a full application.
Two key things motivated my professional registration application:
Support for the future – Being able to attend webinars on topics such as 'Futures as a Laboratory Technician'.  The event and information available provide clarification and education on careers and opportunity within industry, thinking about how to progress.  These events offer access to listen to and ask questions to experts.
Validation – Its nice to have your experience and knowledge validated externally.  It has given to me the recognition and cemented in my mind the skills and competence I am able to deliver within my work.  Its like height, you don't see yourself grow.  The process of registration allows you to reflect and observe this.
How did you find out about the apprenticeship shortened applications?
We now have new apprentices who are on the same apprenticeship as the one I completed, and they were advised of this new opportunity from their training provider.  I went straight to the Science Council website, found the details of the shortened application and completed it online.
I found the process streamlined, straight forward, with lots of useful help and support that clarified the requirements of the application.  It was a clear and easy to follow process with feedback to help along the way.
What do you value most from being a member of your professional body?
The content I receive is consistently interesting, intuitive, exciting and relevant.  It broadens my horizons and helps me to explore the opportunity of my career for today and the future.
Being a member of the Royal Society of Chemistry offers access to content and experience to support my future growth, whilst also delivering on the continued validation of my work performance.
It also serves as a pillar for if I ever feel as if I am not clear on where I am headed or where I would like to head in my career.
Employer – Carbon8
Catherine Tuckey – RSC's Professional Registration Specialist and Technician Commitment Project Lead
"We're thrilled to welcome Rodzers into our community of chemical scientists as a member of the Royal Society of Chemistry, and he joins a global network of scientists through professional registration. It's great to see Rodzers getting the most out of his apprenticeship and RSC membership, already taking advantage of benefits such as careers support and webinars, and that the shortened route to registration made the process so smooth and straightforward. Best of luck to Rodzers continuing in his technical career, and I look forward to seeing how the RSC can help along the way."