Laura Wilson RSci, Senior Research Technician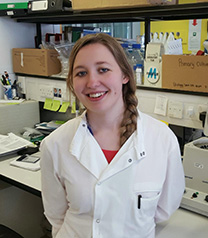 "Becoming professionally registered has made me realise how important technicians are to the day to day running of the laboratory."
Why did you decide to apply for professional registration?
Here at Newcastle University technical registration was heavily promoted, the more I looked in to the registration process it became apparent that it would be a worthwhile route to take to further enhance career progression and open future opportunities.
From attending university registration events I was inspired to complete my registration after seeing some of the opportunities some of the other registered scientists were able to take on.
How has professional registration with the Science Council made an impact on your work or career?
Professional registration has massively impacted on my career, it has given me confidence to take opportunities when they arise. I was able to complete an affiliateship with City & Guilds for the Professional Recognition Award Level 5. I learnt valuable skills on this course which gave me confidence to apply for a secondment within the institute. This secondment was more senior to the current job role I have. I was successful and now work part time as a Senior Research Technician and part time as an Experimental Scientific Officer. In this role I manage the building equipment and work closely with the technical manager to help with the day to day running of the building. I have also contributed to TechNet (Newcastle University technician networking events) by giving presentations about my work something I would not have even thought about doing a couple of years ago. I don't think these possibilities would have been possible had I not completed my registration.
Have there been any women mentors or role models in your career and how have they influenced progress you have made?
I don't think I would be where I was today without the help and support of our technical manager. She has been a role model to me since I started at the university. She is always looking out for the technicians giving them opportunities to develop and passing on her vast knowledge.
Her technical journey for being a trainee technician all the way up to become technical manager really helps when asking her advice about technical careers. She is supportive in new opportunities we want to take and gives us confidence to be the best we can be.
What do you value most from being a member of your professional body?
Being a member of a professional body allows me to feel part of something, I attend the annual conference which is always a great event. This is where I am able to network with others in the field and get an insight in to the future directions of technical careers. I also feel inspired when reading about success stories in the newsletter and see just how wide ranging technical roles are.
What messages do you have for other women about how professional registration has helped you to be recognised and progress in your field?
I think that becoming professionally registered has made me realise how important technicians are to the day to day running of the laboratory and has given me the confidence to come up with new ideas in the work place. It has made me realise that I love my job and that a technician is a great career pathway in its own right. Technical registration has also made me think about my future career and the opportunities I could take to further it.
Become professionally registered
Have you been inspired by Laura Wilson? Find out how to apply to become a Registered Scientist (RSci) here.