Hayley Pincott RSciTech, Associate Practitioner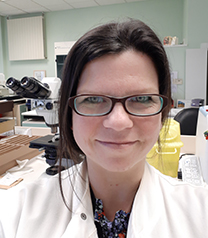 "Being a registered professional with the Science Council has provided me with a lot more confidence in my abilities and knowledge."
Why did you decide to apply for professional registration?
I wanted something to demonstrate the knowledge and skills I have acquired over time during my career. I believe that becoming an RSciTech is the perfect way of doing this. It also helps to demonstrate a certain level of competence and professionalism that is widely recognised. It is a measure of professional standing that not only shows I have met professional standards but also provides reassurance and confidence of my experience within the wider community. I originally became aware of professional registration while I was looking into completing the IBMS Certificate of Achievement II portfolio and realised that becoming an RSciTech was something I wanted to achieve. I'm now looking forward to completing the Certificate of Achievement II portfolio and then applying to become an RSci.
What makes the Science Council's professional registration award different to other registration awards you may be eligible to apply for?
The Science Council is a well established organisation that has helped to produce a well respected international scientific community and I feel really proud to be part of that community. Being a registered professional with the Science Council has provided me with a lot more confidence in my abilities and knowledge. Due to this I now feel able to communicate better with other healthcare professionals, this ultimately benefits our patients.
How has professional registration with the Science Council made an impact on your work or career?
I only started looking into becoming an RSciTech when I was looking at completing the IBMS Certificate of Achievement II portfolio. I'm glad I became registered and am looking forward to applying to become an RSci when I've completed the portfolio. I feel that having the IBMS qualification alongside being registered will help me with any future career path. Being a registered professional shows a level of professionalism, integrity and is a great indicator of my level of knowledge and experience in my field of work.
Have there been any women mentors or role models in your career and how have they influenced progress you have made?
I work and have worked with some amazing women and men on a daily basis, they have helped, guided and advised me and I wouldn't be having the incredible opportunities I have now if it wasn't for my current colleagues Sue Wozniak the Biomedical Scientist I work alongside in Oral Pathology and our consultant Dr Adam Jones.
Dr Jo Horne is also someone I really admire, she's an Advanced Practitioner Healthcare Scientist and has overcome struggles and boundaries within histopathology to progress in her career. She's also really keen to promote the profession, and is passionate about education and training.
What do you value most from being a member of your professional body?
I really enjoy public engagement to help promote Biomedical Science and our role in healthcare and I get great support from the IBMS in doing this. It's terrific to have the IBMS resources available to help encourage future scientists and also help promote the profession. Carrying out these activities has created new opportunities for me with the IBMS which then continue to encourage me to carry on in what I do.
What messages do you have for other women about how professional registration has helped you to be recognised and progress in your field?
I think professional registration is a great acknowledgement of your skills, knowledge and experience. When I start to progress in my career I believe that being an RSciTech will be an enormous advantage. Being registered with the Science Council is being part of a great scientific community and that in itself is an incredible resource.
Become professionally registered
Have you been inspired by Hayley Pincott? Find out how to apply to become a Registered Science Technician (RSciTech) here.