Dr Shashi Ravi Suman Rudrangi CSci, Formulation Research and Development Manager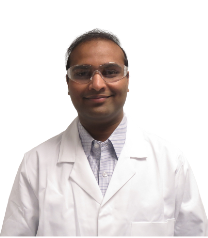 "I can proudly say that the Chartered Scientist status gave great public recognition and instilled high levels of confidence in me."
Why did you decide to apply for professional registration?
As a pharmaceutical formulation scientist, I must use specialist knowledge and broader scientific understanding to develop and formulate novel drug products and dosage forms by scoping, planning and managing multifaceted projects. The pharmaceutical industry is constantly evolving with latest breakthrough technological advancements and as a pharmaceutical professional I need strong technical skills, scientific knowledge and a commitment to learning in order to solve complex issues and develop innovation strategies.
I decided to apply for professional registration to join the Science Council's worldwide community of cross-disciplinary scientists. I wish to become a leader in my field and demonstrate that I possess strong scientific expertise and competences and prove to the pharmaceutical community that I work at the highest professional standards. I can proudly say that the Chartered Scientist status gave great public recognition and instilled high levels of confidence in me.
What makes the Science Council's Professional Registration award different to other registration awards you may be eligible to apply for?
The Science Council's Chartered Scientist award is unique and requires the scientists to demonstrate and emphasise competence across five areas that include application of knowledge and understanding, personal responsibility, interpersonal skills, professionalism and professional standards rather than just considering the qualifications, experience and achievements of the scientists. Moreover, the scientists must maintain the award status through meeting continuing professional development (CPD) requirements each year. The requirement to maintain the CPD makes me feel involved and up-to-date with the latest scientific advances.
How has Professional Registration with the Science Council made an impact on your work or career?
Chartered Scientist award is a mark of excellence and has given me credibility among the wider scientific and pharmaceutical communities, an endorsement of my professional skills and competence.
As a formulation research and development scientist I develop formulation technologies from laboratory scale research through large scale pilot production of conventional and modified release oral solid dosage forms leading to European markets.
I also spearhead the transfer of these technologies to various contract manufacturing organisations in Europe and Asia.  I take pride in the work that I do, and it is humbling whenever I see a product being used in the real world that I was a part of. Exposure to cross-functional teamwork in my current position is widespread; I liaise with cross-functional departments like the Quality Assurance / Quality Control / Analytical Development / GMP Manufacturing / Regulatory Affairs on a day-to-day basis for smooth delivery of the projects. I constantly see ways to streamline and improve what I am doing and the Chartered Scientist award challenges me to keep abreast of technologies.
What do you value most from being a member of your professional body?
I feel proud to say that I am a member of the Royal Society of Chemistry, the world's premier chemical society. As a Royal Society of Chemistry member, I have access to a suite of benefits providing me the right support and the right tools to reach my potential at every stage of my career. Through the special interest groups and divisions, RSC allowed me to widen my network and reach out to chemical scientists worldwide.
As a pharmaceutical research and development scientist, it is my responsibility to maintain, improve and broaden my skills and knowledge to ensure continuing competence. The RSC's online Continuing Professional Development (CPD) framework helps me to maintain professional standards and take the next step in my career. I also had the privilege of receiving travel bursaries from the RSC to attend and present my research at the leading conferences in Germany, Turkey and Scotland.
What would you say to any other scientist like yourself who is thinking about Professional Registration?
Professional registration improves career prospects and employability, enhances status that leads to higher self-esteem. Being professionally registered demonstrates an individual's commitment, competence skills, knowledge and understanding within the profession. The Chartered Scientist award equipped me to showcase my best self, in becoming even better and has given me the confidence to come up with new ideas in the work place.
Professional registration demonstrates your commitment to professional standards, and to developing and enhancing your competence. Being professionally registered is a mark of excellence and I advise you to go for it and stand out in the scientific community.
Inspired by Shashi? Find out more about applying for professional registration.