Dr Jemma-Anne Lonsdale (PhD) CSci, Senior Advisor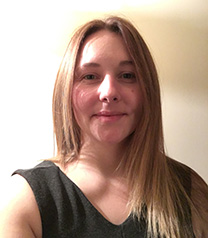 "My advice: do not be overwhelmed by the initial paperwork and engage with the process and interviewers, it is so helpful when you come out the other side."
Why did you decide to apply for professional registration?
I decided to apply for professional registration as I wanted peers to recognise my scientific and professional achievements and competencies. I chose to apply through the Institute of Marine Engineering, Science and Technology as it was the most appropriate body for my experience and career needs. Having the CSci and CMarSci statuses has boosted my confidence for applying to sit on boards, which reinforces that I have an excellent knowledge base in my area and the experience to influence and help others.
What makes the Science Council's professional registration award different to other registration awards you may be eligible to apply for?
What I liked about the Science Council's professional registration award is that it took into consideration my knowledge, qualifications, academic achievement and on-the-job experience to demonstrate the required level of competence. This was important as I felt others only focused on either academic or on-the-job experience, but I felt that my post-graduate degrees were just as important as my working experience given the real world application of them and relevance in my work area. When considering professional registration, the competencies were also a factor as I wanted competencies that were relevant and important to me. The competencies for CSci and CMarSci emphasise not only my technical understanding but scientific professionalism which is often overlooked but just as important in my view. No one will want to work with you or offer you a contract if you do not demonstrate that you are professional.
How has professional registration with the Science Council made an impact on your work or career?
Within the Centre for Environment, Fisheries and Aquaculture Science, scientists such as myself are encouraged to pursue professional registration through the Institute of Marine Engineering, Science and Technology as it provides insight from across the entire marine sector to help inform our science and advice. The application and interview process allowed me to revisit the work I had done to date, recognise how far I have come and identify areas where I can continue to develop. As such, since being awarded the CSci and CMarSci statuses, I have discussed potential career options with senior scientists both within my organisation and IMarEST to map out a clear career path with development and training opportunities for progression.
Have there been any women mentors or role models in your career and how have they influenced progress you have made?
Most of my mentors and role models have been male however there are specifically two women who I have looked up to in my own career. The first is Prof. Selina Stead who I met briefly at a conference and consider a role model. She applies inter-disciplinary sciences to deliver projects (relevant to my own work area) and went on to become the Chief Scientific Advisor for a UK regulator, a position that I aspire to. By using her as a role model, I have developed my own career roadmap. The second is a fellow colleague, Sylvia Blake who is a mentor with over 20 years' experience in the same field and provides specific mentoring on legislation, precedents and case studies. She helped me to specialise in my area: interpreting international legislation and obligations which has allowed me to represent the UK at international forums and influence international science.
What do you value most from being a member of your professional body?
As a member of the Institute of Marine Engineering, Science and Technology (IMarEST) I find access to the wider scientific community the most valuable aspect. As a Regulatory Scientist, I provide advice to the Government(s) on the potential impacts of new marine technology and industries on the marine environment, as such I not only need to be up to date on marine science but also engineering and technological advances which IMarEST offers. IMarEST allows me to reach out to engineers and scientists worldwide through their online discussion forums and special interest groups, and I can learn from their experience and knowledge to advance my own.
What messages do you have for other women about how professional registration has helped you to be recognised and progress in your field?
Before I was awarded my professional registration, I felt I was always justifying why I was qualified or experienced to provide advice at the national and international level. After achieving the status, people recognise that in order to be awarded professional registration, I had to demonstrate a range of competencies which has helped me to cement my position as a senior and specialised scientist in my area. By going through the application process, I was able to identify which competencies I am weaker on and find ways to strengthen these areas. The interview was extremely useful as this was a two way conversation and allowed me to 'pick my interviewers' brains' about how best to strengthen my competencies and progress my own development and career. My advice: do not be overwhelmed by the initial paperwork and engage with the process and interviewers, it is so helpful when you come out the other side.
Become professionally registered
Have you been inspired by Dr Jemma-Anne Lonsdale (PhD)? Find out how to apply to become a Chartered Scientist (CSci) here.