Dr Abilash Nair CSci, Materials Development Manager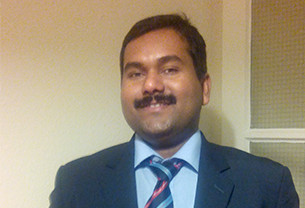 My motivation to apply for professional registration
I find professional registration is an excellent opportunity to demonstrate my scientific competences and commitments to professional standards.  The registration is granted only after a successful competence-based evaluation process and therefore considered meritorious and sets you apart from those who are not registered.  In particular, Chartered Scientist registration with the Science Council is internationally recognised, widely accepted and respected among peers.
The Science Council's Chartered Scientist award is different to other registration awards because it evaluates and recognises my scientific competences. This also ensures a commitment to continuing professional development.
Chartered Scientist status has provided me with more scientific opportunities and responsibilities at work, which has also helped me to achieve recognition to a senior level.
Why being a Chartered Scientist is important in my area of work
Rubber science and engineering is a specialised area in the field of material science and engineering. Being a Chartered Scientist in this field adds value to the material development and product improvement activities that I carry out as part of my work. I also find it important in evaluating scientific concepts to propose solutions to operational issues including complexity reduction, rationalisation, cost savings and supporting relevant environmental initiatives. Additional merits that contribute to my professional career include leadership qualities through managing as well as supervising various projects and maintaining positive working relationships.
What I value most from being a member of a professional body
Being a Chartered Scientist with the Institute of Materials, Minerals and Mining (IOM3), I find the commitment to continuing professional development as most valuable. This helps me to keep up to date with with latest scientific developments in the field of polymer science and engineering, in particular, rubber science and engineering.
If you are a scientist thinking about professional registration…
I strongly recommend other scientists to apply for professional registration. This will definitely help to enhance your scientific abilities and competencies to an internationally recognised standard.
Become professionally registered
Have you been inspired by Dr Abilash Nair CSci? Find out how to apply to become a Chartered Scientist (CSci) here.