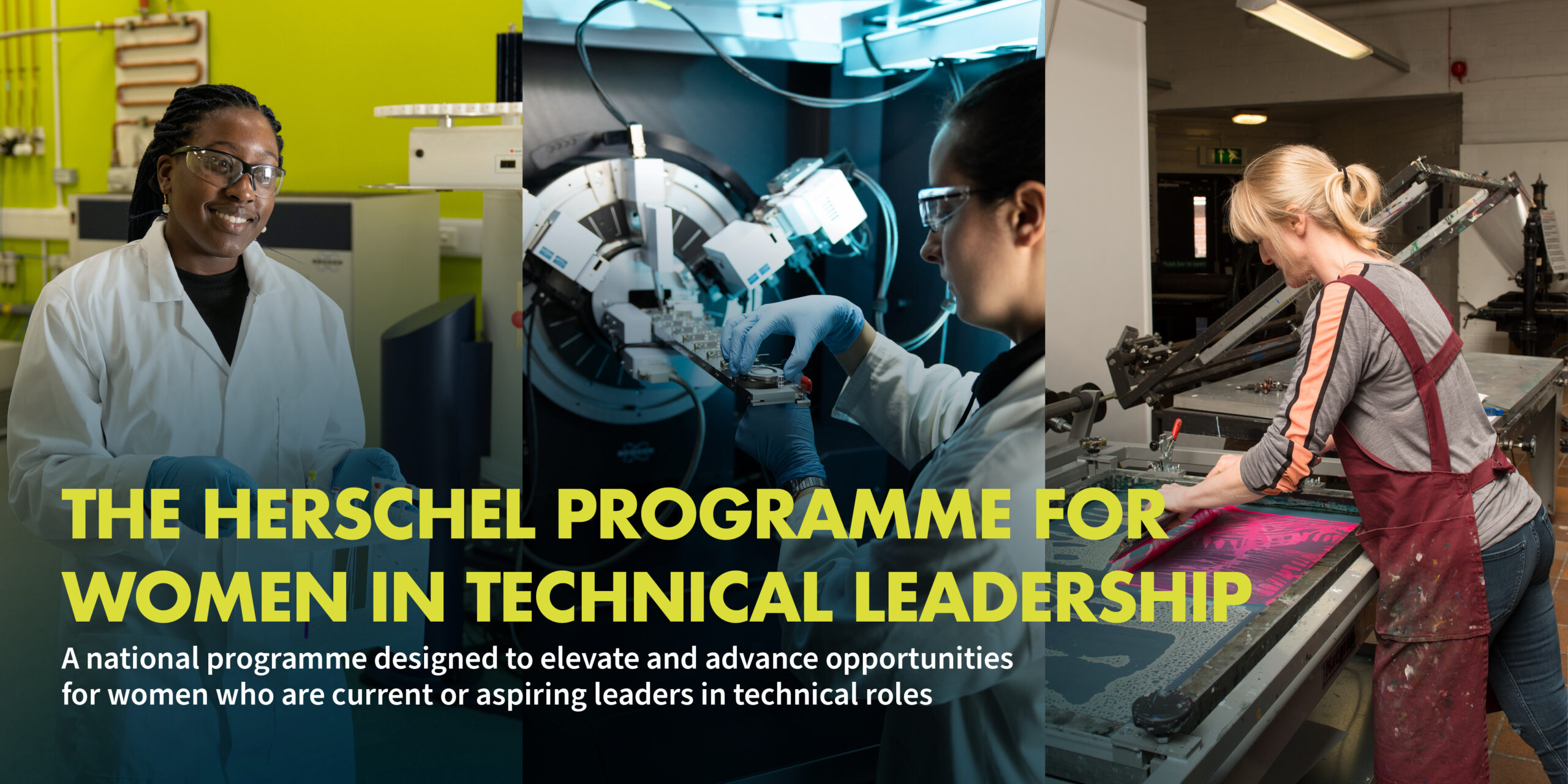 Pioneering Technician Leadership Programme Returns for 2023
A 'life-changing' women in technical leadership programme designed to tackle EDI challenges and the workforce imbalance in higher education and research returns for a second cohort in 2023.
The unique Herschel Programme for Women in Technical Leadership, designed and delivered by the University of Nottingham and the Research England funded Midlands Innovation TALENT programme, teaches new skills for current and aspiring technical leaders to develop their careers.
Only 32% of women are in technician management and leadership roles and less than half of those in the technical workforce are women,* this programme directly addresses this issue.
Current and aspiring women in technical leadership roles working in higher education and research roles are now invited to apply for the next programme which will commence in January 2023.
Kelly Vere MBE, University Director of Technical Strategy for University of Nottingham and Programme Lead for TALENT explained why the initiative was so important.
"There is a lack of women in technical leadership roles across all disciplines, which is why we designed an intervention to try and address this issue. The programme focusses on upskilling and empowering women to progress in their own leadership journey and the pilot has created an incredibly supportive network of over 170 technical leaders," she said.
"The results speak for themselves; many women applied for the 2022 programme showing the need for tailored programmes like this. The feedback evidenced positive impact for those who took part and wider benefits within their own institutions."
More than 170 technicians representing 53 higher education and research institutions from across the UK took part in the 2022 pilot programme, with many successfully applying for new jobs and development opportunities as a result.
The programme provides tools to use in the workplace allowing technicians to put themselves forward and progress their own leadership journey. Participants described it as "inspiring, lifechanging and supportive" as well as "immensely rewarding".
Jody Smith from Sheffield Hallam University said: "It's given me the confidence to put myself forward for projects or promotions I wouldn't necessarily have thought I could have gone for."
Kelly Asha Tyloo from Imperial College London said: I've got better at "speaking up and being more assertive about what I want, even if it's in a different sector or role and knowing that I'm capable of making that change."
Claire Cawthorne, Programme Manager from the University of Nottingham also commented.
She said: "I hope other aspiring technical leaders are motivated to apply for the 2023 programme. Successful applicants will learn new skills such as self-awareness, leading in a technical environment, negotiation skills and navigating the organisation. Initiatives like this help higher education institutes to develop and retain the best talent whilst boosting confidence and career opportunities for the individuals."
Applications for The Herschel Programme for Women in Technical Leadership open 26 September 2022 and close on 21 October 2022 at 5pm.
Visit https://www.mitalent.ac.uk/The-Herschel-Programme. Applicants are asked to supply a 200-word supporting statement.