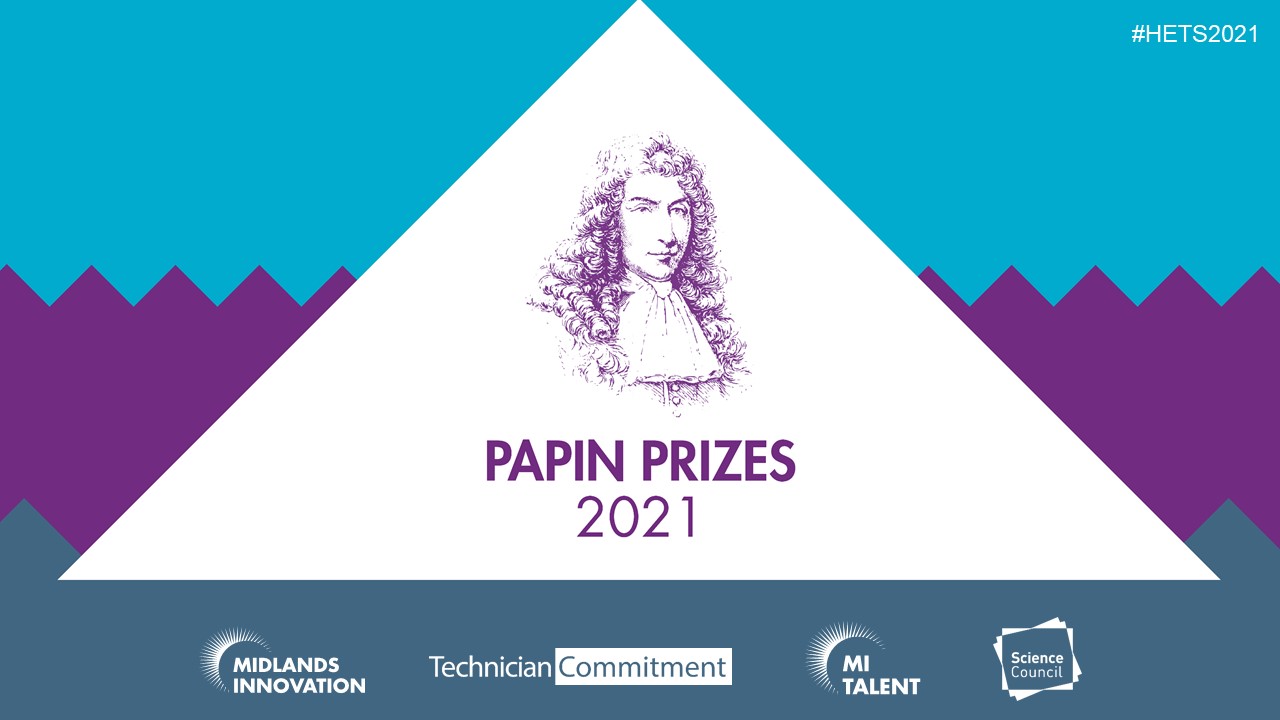 Celebration at HETS2021
The UK's biggest ever conference for technicians in Higher Education and research took place in Nottingham yesterday, 10th November 2021.
The UK Higher Education Technicians Summit (HETS) is dedicated to sharing best practice amongst technical staff working in higher education and research in the UK and Ireland.
Held at the East Midlands Conference Centre at the University of Nottingham, the event is hosted by Midlands Innovation, in partnership with the Technician Commitment and the Science Council.
Over 300 delegates attended from higher education and research institutions across the country, to celebrate the contribution of technical staff to research and innovation.
Professor Andy Long Provost Deputy Vice-Chancellor of the University of Nottingham opened the proceedings, sharing the progress of Midlands Innovation and the Technician Commitment on the journey to increase recognition and development opportunities for technicians.
Fran Scott, engineering presenter, pyrotechnician and well-known public figure on TV and stage delivered a lively keynote speech to technicians celebrating their ability to adapt, get things done and their can-do attitude.
In addition, Professor Dame Ottoline Leyser Chief Executive of UK Research and Innovation (UKRI) shared the priorities and insights of UKRI, as the "stewards of UK research and innovation". She highlighted the importance of connected networks within research and innovation, and the key role of the technical workforce to bring diversity and collaboration in discovery.
Several workshops were delivered on a range of topics including the policy landscape pertaining to the technical workforce, technical representation within institutional decision-making processes, networks to support health and wellbeing, recruiting a diverse technical workforce and essential PPE.
The Science Council presented workshops on the role of T-Levels, apprenticeships and industry placements in supporting technical education. In addition, we shared how the Science Council Employer Champion programme can elevate staff development and recognition.
Papin Prizes
Lastly, the acclaimed Papin Prizes were presented by Amanda Solloway MP, to technicians across nine categories, with the categories and winners as follows:
Contribution to Infrastructure: Catherine Davies, University of Manchester
Contribution to Research: Oniz Suleyman, Queen Mary University of London
Contribution to Teaching: Natalie Sobey, University of Plymouth
Core Research Facility: Laura Wilkinson Hewitt – University of Leeds (Protein Production Facility)
COVID-19 Recognition (National Impact)
Winner: Sequencing Operations Team – Wellcome Sanger Institute
COVID-19 Recognition awards: Community Impact
Andy Tallis, University of East Anglia
Judith Mayne, University of East Anglia
Kent Technical Services, COVID PPE Response Team, University of Kent
Newcomer: Lola Ogunyemi, University of Nottingham
Outreach/Community: Katherine Hardy, Nottingham Trent University
Technical Team: Farnham Printmaking Team – University for the Creative Arts
The Professor Lord Bhattacharyya Lifetime Achievement Award: Bob Hide, University of York
Papin Prize Medal: Dr Ian Hancox, University of Warwick