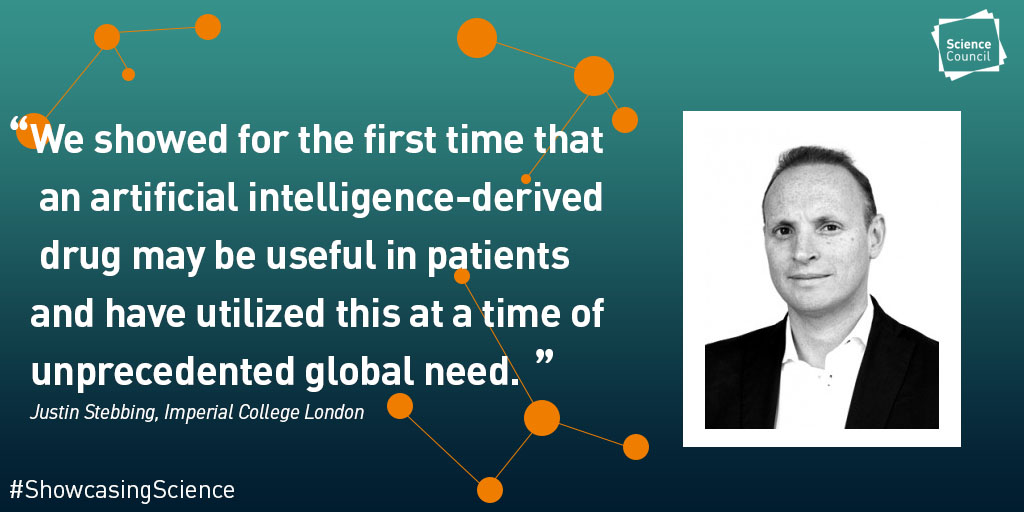 Showcasing Science: Drug discovery with AI
Justin Stebbing and his team at Imperial College London have been investigating a new drug treatment for COVID19 patients, with the help of artificial intelligence:
At the start of the pandemic, we showed for the first time that an artificial intelligence-derived drug, baricitinib, may be useful in patients and have utilized this at a time of unprecedented global need.
Work has been fast – from the initial publication in the Lancet in early February 2020 to obtaining ethical approval, treating patients and independently validating the effects of baricitinib in laboratory studies have been completed in a few weeks. Such unprecedented speed represents a true landmark in bench or computer to laboratory collaborations to bedside work, across the globe.
At the beginning of the pandemic, I worked with a team using artificial intelligence (natural language processing) to look for drugs that may inhibit both the viral entry and the damaging inflammatory response to COVID19.1, 2, 3
This work highlighted the drug baricitinib, which was already used to treat rheumatoid arthritis (RA). Our study confirmed for the first time that the drug reduces the ability of COVID19 to infect lung cells.4
The work didn't stop there. To extend these laboratory findings, the Sacco Baricitinib Study Group based in Lombardy, Italy, studied the effect of baricitinib in COVID-19 patients.
After treatment with baricitinib, severely ill patients with bilateral COVID-19 pneumonia, showed improvement. The speed of the research, endorsed by appropriate institutional review board approvals has been remarkable.
Our research findings suggest that baricitinib is unlike most drugs, in that it can treat several elements of COVID19 at once – preventing infection, and reducing inflammation.
Baricitinib's unique mechanism could reduce the tremendous strain on global health care systems requiring robust emergency care facilities. At a time of global crisis, this highlights the use of AI in drug discovery, and its usefulness in both the laboratory and in hospitalized patients with COVID-19.
Based on these data, the company who own the drug have taken it into major international phase 3 trials5, and my team excitedly await the results of the randomised studies to see if this drug can save lives6.
Read more here: https://www.researchsquare.com/article/rs-23195/v1
This blog was published as part of our Showcasing Science: Behind the scenes of COVID19 series. Read the rest of the blogs here.