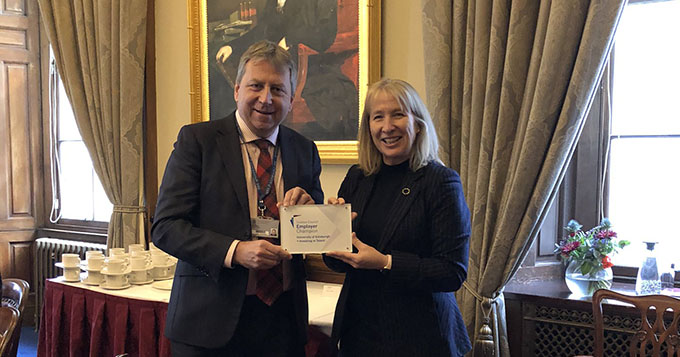 University of Edinburgh becomes newest Employer Champion
The Science Council are delighted to announce that the University of Edinburgh has been awarded Employer Champion status.
On the 17th February 2020 at the Playfair Library, Edinburgh, Science Council CEO Helen Gordon awarded the University of Edinburgh Employer Champion award. From the University of Edinburgh, Principal and Vice-Chancellor Professor Peter Mathieson and Vice Principal and Head of the College of Medicine and Veterinary Medicine, Professor Moira Whyte were also in attendance at the ceremony.
The University of Edinburgh is the sixth oldest university in the English-speaking world and has an unrivalled tradition of excellence in scholarship, enquiry, research and teaching. Today, the University is home to 33,000 students who study across some 100 disciplines. Founded in 1583, the university has great impact across the world. The University of Edinburgh is ranked 20th in the world by the 2020 QS World University Rankings, and 7th best in Europe by the Times Higher Education.
The Science Council awards Employer Champion status to organisations in recognition of their commitment to professional scientific standards, and investment in their staff and development of their skills and competence. The university will be joining a community of thirty organisations recognised by the Science Council as Employer Champions including Thames Water, University of Exeter, University of Sheffield, University of Newcastle, The Francis Crick Institute and many more.
As an Employer Champion, the Science Council will support the University of Edinburgh in promoting professional registration to it's staff, and provide resources to support continuing professional development activities. Professional Registration is an important milestone for the scientific workforce, establishing proven knowledge, understanding and competence within the scientific field.
A number of scientific staff at the University also received awards for achieving professional registration. The Science Council would like to congratulate the following registrants for becoming professionally registered:
Lee Murphy, CSci
Louise MacGillivray, RSci
Angie Fawkes, RSci
Sarah McCafferty, RSci
Kataryna Hafezi, RSciTech
Kirstie Morrice, RSciTech