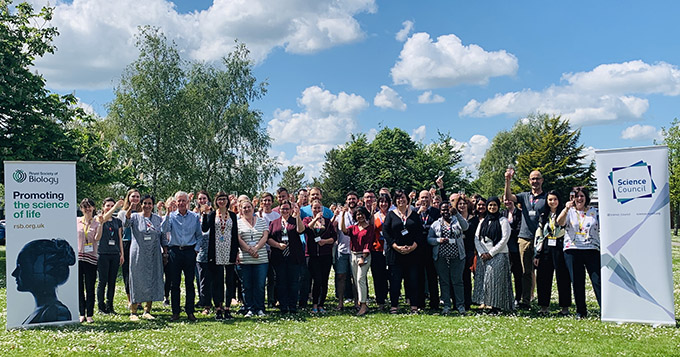 A week of celebrations for Science Council Employer Champions
The end of May saw a week of celebrations for one of our existing Employer Champions, the Medical Research Council (MRC) Harwell Institute, as well as for a new Employer Champion, Suez Water Technologies and Solutions (WTS).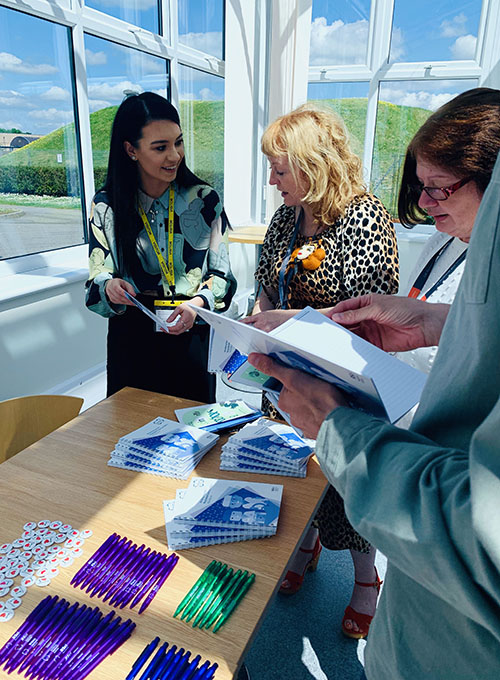 The MRC Harwell Institute held a celebratory event on 21st May to celebrate 60 members of staff becoming professionally registered with the Science Council as Registered Science Technicians, Chartered Scientists and Registered Scientists.
The MRC Harwell is part of UK Research and Innovation (UKRI) and is at the forefront of studies in mouse genetics, functional genomics and bio-computing, investigating a wide variety of disease models and enhancing our understanding of the molecular and genetic basis of disease. The Institute conducts research into e.g. developmental disorders and age-related conditions such as diabetes, deafness and neurodegeneration.
The MRC Harwell Institute launched their professional registration scheme in May 2016 and initially supported quite a small but enthusiastic group of applicants. The first round of assessments took place in September 2016 and their first Registered Science Technicians, Registered Scientists and Chartered Scientists were announced in October 2016.
Tertius Hough CSci, Head of Pathology and Technical Training at the MRC Harwell Institute, said:
"Since launching our professional registration scheme there has been a growing interest and the scales have now started to tip, as being registered is fast becoming the norm. We have started to provide registered staff with frames to display their certificates in the work place, and it is great to see offices with a wall where the whole team's certificates are proudly displayed together. Although the application process can be time consuming, I think there is real value for everybody going through the process of self-evaluation and completing the competence report. It creates an awareness of skills and responsibilities that people often take for granted.

Professional bodies help to broaden the perspectives of their members and create awareness of events and opportunities for continued professional development. The evidence for CPD that is a requirement for ongoing registration also helps our staff to be more CPD aware, reflect on learning and identify their own future developmental needs. Since our launch in 2016, the Science Council has been a great support to us arranging workshops and face-to-face assessments.

We are very pleased that so many of our staff have wanted to become registered and persevered with their applications. We hope to be celebrating 100 members of registered staff in the not too distant future!"
The MRC Harwell Institute signed the Technician Commitment in April 2018. Their action plan to ensure delivery of the Technician Commitment will soon be available on their website.
Suez WTS being presented with their Employer Champion Award. Credit: Suez WTS

The Commercial Laboratories Division of Suez WTS has now joined MRC Harwell Institute and more as a Science Council Employer Champion. The collaboration with the Science Council started in 2018 as part of their commitment to employees and their professional development. The Commercial Laboratories Division has invested in talent and is committed to a high quality application of science. Becoming an Employer Champion shows their commitment to developing their teams and to their customers the quality of work and professionalism of their staff.
As a result of their work to become an Employer Champion, Suez WTS' first group of laboratory technicians and analysts successfully completed their professional registration as Registered Scientists, Registered Science Technicians and Chartered Scientists, recognising standards of excellence in the practice of science and committing them to continual professional development. The certificates were awarded in a small ceremony on 22nd May in their laboratory in County Durham with Simon Turner, Commercial Laboratories Division Director, Peter Geuns, Senior Technical Director CMS Europe and Helen Gordon, Science Council Chief Executive.
The MRC Harwell Institute and Suez WTS are both Science Council Employer Champions. The Employer Champion programme provides a package of support for employers that have made the commitment to support their scientific staff to become professionally registered.