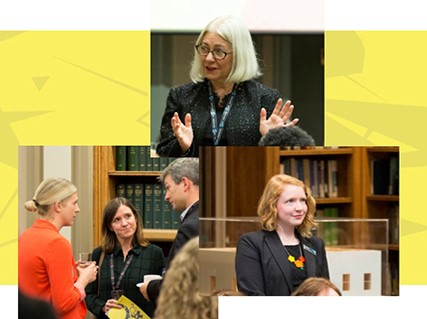 Inclusion and Diversity: the importance of an evidence based approach
by Laura Norton PhD, Senior Programme Manager, Inclusion and Diversity, Royal Society of Chemistry
To get the very best scientific outputs we need a diversity of inputs and talents. For this to happen we need a motivating and fully inclusive environment that allows everyone to fulfil their potential. But how do we do this? How do we improve both diversity and inclusion in science?
At the Royal Society of Chemistry, we believe in taking an evidence-based approach. We believe in collecting data and carrying out research to draw conclusions and then adapt our way of working accordingly to progress positive change.
Benchmarking within chemical sciences
In February 2018 we released the Diversity landscape of the chemical sciences. This report used evidence and data to benchmark the current state of diversity within the chemical sciences. As expected, our research showed that the chemical sciences is not fully representative of the diversity of our wider society. We found a lack of diversity in many areas: disability, socio-economic background, age and ethnicity. But the most striking result was that the lack of gender equality continues to be the single most important factor. We see a dramatic drop in the number of women in the chemical sciences as we move through career stages from undergraduate through to professor or equivalent roles. We provided evidence of a lack of retention and poor progression of women through careers in the chemical sciences. The diversity landscape of the chemical sciences is not good enough, currently chemistry is not for everyone.
Breaking the barriers
Our next step was to uncover why this was the case –  what has led to this lack of diversity particularly in senior positions in the chemical sciences and how can we improve it? Our next 'experiment' was to uncover what is really preventing women from remaining in or progressing within the chemical sciences. We gathered data from our community using an online survey, focus groups and interviews and presented this is in our new report Breaking the barriers. Three key barrier themes emerged (1) academic funding structures (2) the academic culture and (3) balancing work with other responsibilities.  Through analysing these data we have formulated our own commitments and provided recommendations for our community. We concluded that concerted action from all is required to ensure that talented people are able to reach their full potential regardless of gender.
New actions that have resulted from analysis of these data are:
launching a bullying and harassment helpline;
launching grants for carers;
launching an annual recognition for chemistry departments demonstrating significant progress in I&D;
facilitating an exchange of best practice between peers;
and launching a gender equality forum to accelerate the required culture change.
All of these actions are based on our research and so are driven by the needs of our community. In order to help progress gender equality for our community we must listen to their experiences, perceptions and needs change. We need to break the barriers and fill the gaps. We believe that for positive progress we must take an evidence-based approach and share widely our findings so that together we can accelerate the pace of change in I&D.