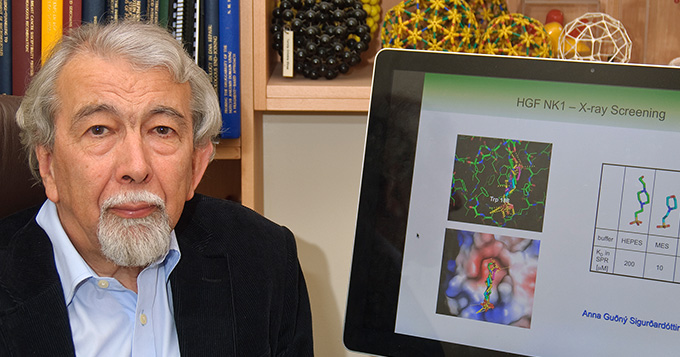 Tom Blundell steps down as President
Professor Sir Tom Blundell has ended his five year term as Science Council President.
During this period he has  presided over much change for the organisation: the launch and growth of two new registers, the inaugural list of 100 leading practising scientists, and the appointment of a new Chief Executive.
Speaking at a farewell dinner last night, Mark Downs, Chief Executive of the Royal Society of Biology, said, "If you look at what happened over the last 5 years, the registers have gone from strength to strength, that's been under Tom's guidance and stewardship. I think we should all feel really pleased about what's been achieved."
"Diversity has been another great passion of Tom's and what we've seen now is the approach of organisations to diversity has changed. That's the influence and passion Tom's been able to bring."

Mark Downs, Royal Society of Biology
Tom also spoke about his experiences, "I've tried my hand at many things in the past: I've chaired a Royal Commission on the environment and produced reports on Energy and Climate Change, I was founding CEO of a research council, the BBSRC, and I have co-founded a company Astex which grew from two people in my lab to a sale for nearly £900 million over ten years later. But still I was not prepared for the challenges of the Science Council!
"I think the Science Council will be as important for the future of companies and Government bodies that employ scientists, as it will be for individual members of the scientific workforce."

Professor Sir Tom Blundell
"We're not going to get people into science unless we offer them really productive careers. We have to be realistic about this – they will have all kinds of roles where science impacts on health wealth creation. We need to think about career progression of our scientists. For many years it seemed really simple: you get into a large company at the ground and you work your way up.
What has really changed now is that companies like Astex do a lot of work outsourced from large companies in a complex research ecosystem, making career paths more challenging.  That is why accreditation is so important: to companies, to individuals and to countries. I think the Science Council has got to be there, working with the member organisations and with our scientific workforce."
He finished, "I want to thank everybody for their friendship and I wish you all the best."
We would also like to take this opportunity to thank Tom for all his support and leadership over the last five years.
Recruitment is underway for a new President and the intention is to split the role into a Chair of the Board and a President.
If you would like to be part of driving forward the Science Council's vision for the future and are an member of one of our member organisations, why not put yourself forward as a Trustee?