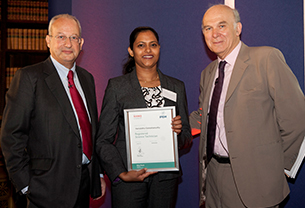 First science technicians join the register
The first seven technicians to join the Science Council's new technician level of registration were awarded their Registered Science Technician (RSciTech) certificates by the Secretary of State for Business, Innovation & Skills, Vince Cable, and Lord Sainsbury of Turville on 29th May 2012.
"If we are to deliver the skills needed to return the economy to sustainable growth we must tackle the shortage of technicians in this country. The UK Commission for Employment for Skills tell us that by 2020 the UK will need to have trained 450,000 technicians to meet demand.  That's why I fully support the work of the Technician Council to increase professional registration and it has given me great pleasure to present the first certificates to this talented group of Registered Science Technicians."

Business Secretary Vince Cable
The presentation to the technicians was made at the 'Strengthening our Technician Workforce' conference organised by Lord Sainsbury's Gatsby Foundation. The event brought together employers, policy-makers and education experts to discuss how to ensure young people both understand the jobs technicians do and have access to high-quality technical training.
"I am delighted that the Registered Science Technician scheme has been launched, as part of the wider plan to increase massively the number of registered technicians in the UK.  Alongside the existing registration scheme in engineering, it will recognise the vital work that technicians undertake in the most important sectors of our economy.   I am particularly pleased to be able to present these first Registered Science Technician certificates to such a talented group of people. 

Technicians are the life-blood of the high-tech economy. Our future industrial success depends on attracting highly able and dedicated people to technician roles both now and in the future.  

Only with a world-class technician base will we be able to meet the significant industrial challenges that lie ahead.  Technicians are key to the solutions we must seek, whether it be ensuring the UK's access to affordable and sustainable energy supplies, delivering the next generation of super-fast broadband, or building a high-speed railway infrastructure.  

It is crucial that we create well-established routes for young people to acquire technician qualifications which are valued by employers and help young people to get better paid and more exciting jobs."

Lord Sainsbury
Seven Science Council member organisations are piloting the new levels of registration adding Registered Science Technician and Registered Scientist to the existing Chartered Scientist designation. All levels of registration require individuals to be taking responsibility for their own ongoing professional development providing employers and the public with confidence in Registrants' professionalism and that they stay up to date with developments in their field.
"The Science Council wants to give recognition to all the highly-skilled professionals who sustain UK industry and society across the vital science-based growth sectors, and our new professional register, Registered Science Technician (RSciTech) aims to raise the profile of the technicians in this key workforce.  We hope that the opportunity to receive accreditation will not only inspire technicians working at this level to take further qualifications but will also show that being a science technician is a worthwhile and fulfilling career"

Diana Garnham, Chief Executive, Science Council