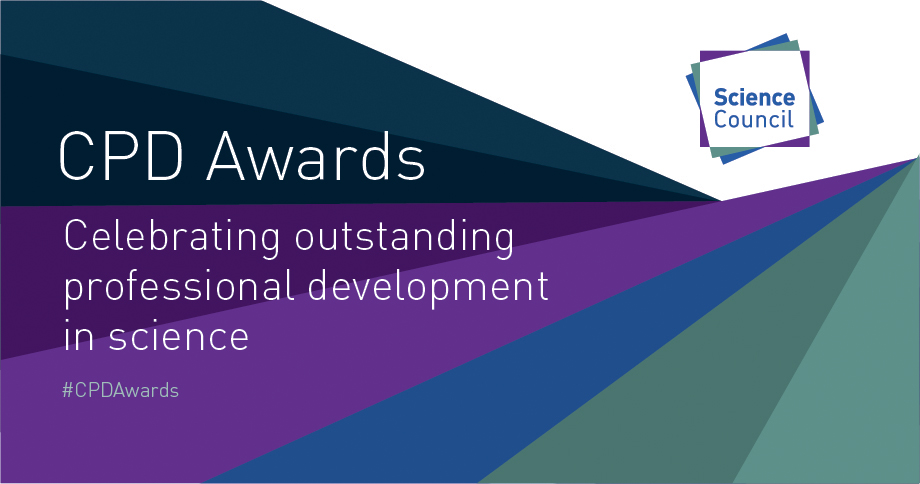 CPD Awards return for 2020
*Nominations are now closed*
The Science Council's CPD Awards are back for 2020 to continue the celebration of outstanding CPD.
The CPD Awards are designed to celebrate outstanding professional development in science, showcasing examples of good practice and continuous improvement. They celebrate the professional development efforts and achievements of registrants across the four Science Council registers: Registered Science Technician (RSciTech), Registered Scientist (RSci), Chartered Scientist (CSci) and Chartered Science Teacher (CSciTeach).
New for 2020: CPD Awards Week
While this year we cannot be together in one room to celebrate outstanding professional development in science, we continue to celebrate the success of our registrants. Instead of announcing the results of the CPD Awards 2020 at a face-to-face ceremony, this year we are bringing our celebration online.
From 3rd November 2020, join the Science Council on our website and social media channels where results of the Awards will be announced, winners will be met, and our celebration of outstanding CPD will continue.
We will also be joined by several special guests online throughout the week. All winners and commendations of the CPD Awards 2020 will receive an invitation to attend the ceremony held in 2021.
Recognise your outstanding skills.
We had a record breaking number of self-nominations for the CPD Awards 2019. To build on this, the CPD Awards 2020 will only be accepting self-nominations. Now is your time to shine – recognise your own outstanding work and skill set, and nominate yourself for an award!
A brand new submission form.
The CPD Awards 2020 now has its own unique submission form, which will be open for entrants on the 12th June 2020. You will have the option to upload your CPD timeline you already keep, and through some additional questions you will have the opportunity to reflect upon this further.
For each question our 'To do well' tips highlight what the judges will be looking for. As such, all entrants are provided with the same opportunity and encouragement to elaborate upon your CPD.
Find guidance on how to apply here.
All nominations must be made using this online nomination form.
Nominations close at 23:59 on Friday 31st July. Winners will be notified in mid-September and the awards week will be held online on 3rd November.
Read about the 2019 CPD Awards winners and commendations on our website.