University College London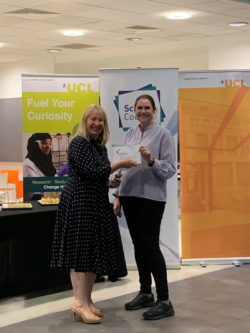 University College London (UCL) became an Employer Champion in July 2022, at an event hosted by the School of Pharmacy, with Professor Nigel Titchener-Hooker, Dean of Engineering and Senior Sponsor of the Technical Staff Project and Fiona Ryland, UCL Vice President (Operations) in attendance.
In order to achieve the award, UCL ran a professional registration pilot at School of Pharmacy, in which five members of staff became professionally registered. The success of the pilot inspired another pilot at faculty level, with a group of 18 technical staff who had the financial and mentoring support. In the future, UCL wants to work closely with professional bodies, so technical staff are aware of, and benefit from, the many opportunities that come with having the professional registration.
UCL has been a Technician Commitment signatory since 2018 and becoming an Employer Champion was part of their action plan.