Queen Mary University of London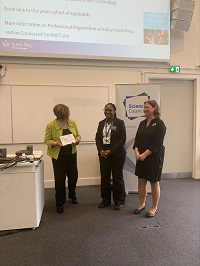 Professional Registration had been a priority for Queen Mary University of London (QMUL) since they signed up to the Technician Commitment in 2018. They launched a Professional Registration Fund in May 2020 and as of August 2022 they are assessing applications from their 3rd annual cohort. Their latest 36 month action plans has followed up with a commitment to continue the annual professional registration fund, showcasing previous applicants and supporting current applicants.
In recognition of this commitment to the professional registration of their staff the Science Council awarded them Employer Champion status in September 2022 at their Technical Staff Symposium. Anne Parry, Faculty Director of Operations for Science and Engineering and Technician Commitment Lead, accepted the award on behalf on QMUL.