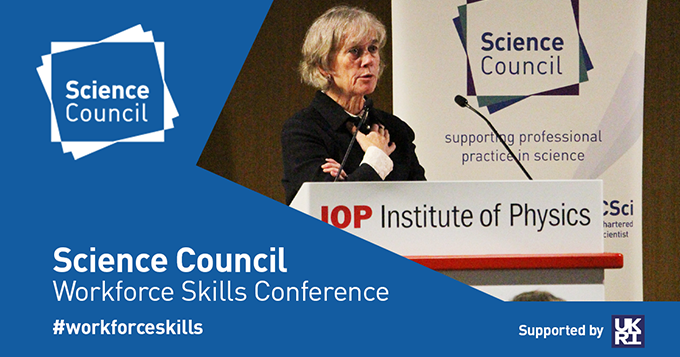 Workforce Skills Conference, 2023
A recap of the Science Council Workforce Skills Conference, 2023
The Science Council Workforce Skills Conference took place at the Institute of Physics on the 19th of October. The conference was supported by UK Research and Innovation (UKRI) and brought together the Science Council's member organisations with representatives from across the wider science and innovation community. It provided a space for discussion and debates on key policy topics in relation to the science and innovation workforce.
A keynote address was made by Professor Dame Angela McLean – UK Government Chief Scientific Adviser.
"A capable workforce is key to building a successful organisation, with STEM skills being crucial to creating a genuinely scientific Civil Service. Delighted to highlight the importance of science and tech in Government at the Science Council Workforce Skills Conference last week" – Government Chief Scientific Adviser Professor Dame Angela McLean.
The conference also included panels with speakers from organisations such as UKRI, the National Centre for Universities and Businesses (NCUB) and the British Academy. The speakers gave valuable insight and opened discussion on key topics including AI in the STEM workforce, sustainability, supporting cross sector mobility, technical education, professional registration and the need for a multidisciplinary approach.
A conference report and recording will be made available in the coming weeks.
The full digital programme of the event, including bios of all the speakers can be accessed here.