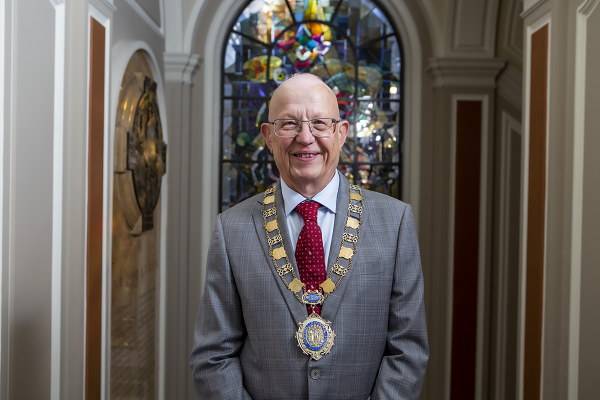 New IChemE President sets out ambitions for IChemE to make a positive societal impact
Elected as the 82nd President of the Institution of Chemical Engineers (IChemE), Nigel Hirst delivered his Presidential Address last week on Wednesday 14th June 2023 from the Royal Society of Chemistry in London, UK, with members, trustees and invited guests present, and many more watching live online.
Nigel has been an active IChemE volunteer since the 1980s, starting as a member of the Manchester and Salford Member Group. Following his term as the inaugural Chair of Congress, the Institution's member advisory body, from 2018-2021, and his involvement in the centenary committee, Nigel was elected by the membership to take up the position of President of the Institution from June 2023. The formal handover of the Presidency was given by the 81st President, David Bogle, during the Institution's Annual General Meeting held on 13th June.
Entitled Chemical Engineering: Science…or Art?, the Presidential Address examined how chemical engineering is much more than purely a scientific concept and, particularly given how the profession is evolving to cover wider business, environmental and ethical disciplines, is also an art.
Nigel Hirst said:

"I believe the 'art' of chemical engineering is to persuade those outside the profession of the unique and priceless contribution chemical engineers can make to solving the world's 'grand challenges' – and this is where my efforts will focus, knowing that by working together with my fellow Trustees, volunteers, members, staff and fellow institutions, we can all make a difference."
In his Address, Nigel set out his ambitions for how IChemE can make a positive impact on society through sharing knowledge and expertise, encouraging volunteering and highlighting the critical contributions of engineers in meeting the United Nations Sustainable Development Goals (UN SDGs).
Nigel also shared his desire for ensuring that every young person understands how valuable and rewarding a career in engineering can be, and that they are able to access IChemE membership whatever route they take.
Nigel remarked:

"The message I would pass on to any young engineer, whether in industry or academia, is to be both agile and adaptable. The American writer Alvin Toffler said 'The illiterate of the future will not be the individual who cannot read or write, but the one who cannot learn, unlearn and relearn'. Some recent statistics suggest that 80% of children in their first year of primary school will enter careers that don't exist now, involving technology that hasn't yet been invented. Most of my work career involved selling engineering services to clients. The main skill was to listen to their problems and convince them you had a solution. The 'art' side of chemical engineering."
During his address Nigel reflected on his career which began with a degree from the University of Cambridge, UK, before joining Lankro Chemicals in Eccles, Manchester, UK. His career led to a vast array of experience in process design and project management, including responsibility for plant operations in the UK and Asia. His background in speciality chemicals as well as in activated carbon and ion exchange resin manufacture equipped him well for his role in leading a diverse group of companies including the Haden Freeman Group.
Commenting on his goals during his 12-month tenure as President, Nigel revealed the 4 key areas on which he wishes to focus:
Collaboration – making an impact by working with partners to ensure chemical engineers' voices are heard
Continuous learning – providing development opportunities for chemical engineers at all career stages
Community – creating an inclusive community for chemical engineers to contribute to society
Choice – increasing the number and diversity of young people choosing chemical engineering.
As he enters his Presidential year, Nigel hopes to meet as many members as possible, both physically and virtually, and looks forward to working with members, volunteers, staff and stakeholders to advance both the Institution and the profession to achieve IChemE's goal of engineering a sustainable world.
The 2023 Presidential Address was live-streamed via IChemE's YouTube channel and a recording is available to view.