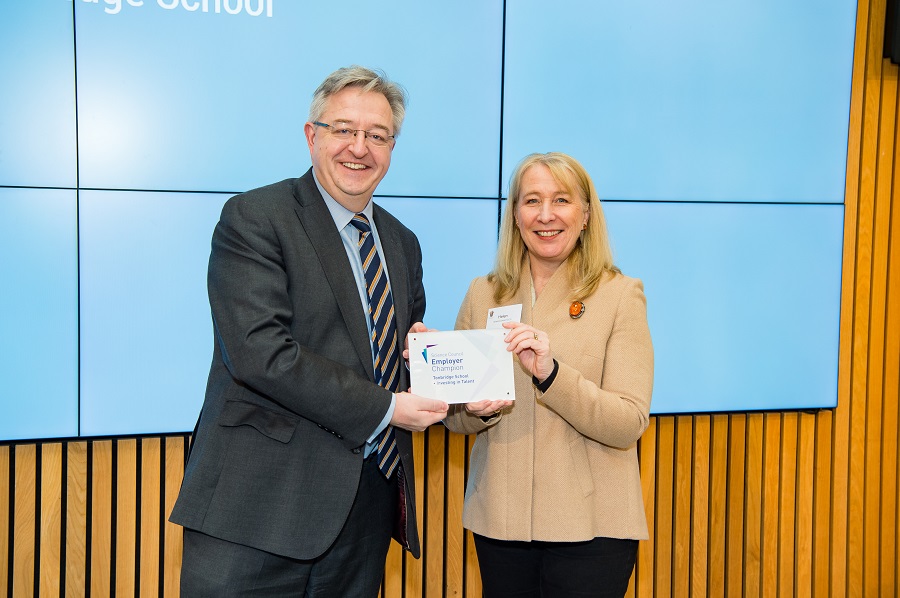 Tonbridge School achieve the Employer Champion award
The Science Council is delighted to welcome the first school to the Employer Champion programme.
The award was presented to Tonbridge School on Thursday 23rd March 2023 as part of their first Science Technician Convention. The convention aims to develop and promote strong collaborative links between the state and private school sector across London and the South East. Technicians had an opportunity to discuss ideas in small group forums, to share and develop good practice.
Science Council chief executive Helen Gordon presented the award to Tonbridge School Head Teacher, James Priory.
Helen Gordon "We're delighted that Tonbridge School will be supporting more colleagues to achieve, through registration, external recognition of the high standard of technical expertise that technicians bring to their organisation."
The Science Council awards Employer Champion status to organisations as a mark of their dedication to the quality and practice of science through the professional development and registration of their scientific staff.
James Priory, Head Teacher "A great deal of work and creativity has gone into supporting the professional development of our staff. We are very fortunate to have such a well-qualified and committed technician team."
The following staff achieved professional registration with the help of Tonbridge School:
Lisa Alford RSciTech – Science Coordinator
Ramona Szalczinger RSciTech – Senior Biology Technician
Joanne Seymour RSciTech – Chemistry Technician
Laxmi Gharti Magar RSciTech – Biology Technician
Alison Christou RSciTech – Science Technician
Helen was able to present certificates of registration to those technicians in attendance.