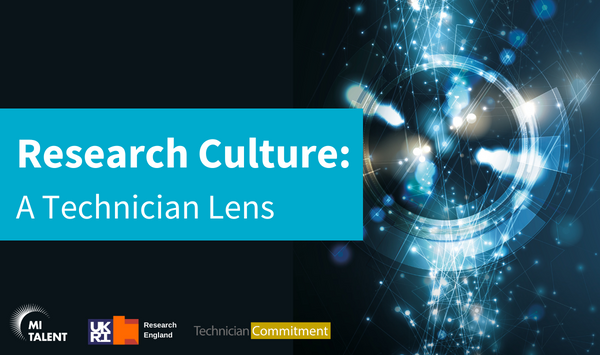 New report on technician experiences boosts sector-wide research culture insights
New report explores research culture from perspectives and experiences of technicians
Report themes explore institutional behaviours, research quality and integrity, recognition and visibility
Technician insights reveal: 46% felt that technicians play a significant role in changing research culture, the majority agreed that one thing that would improve research culture at work was 'more recognition for contributions' (34%)
New insights on research culture identifying the experiences of technical staff in higher education and research settings, have been published in a national report.
Research Culture: A Technician Lens has been launched by the Research England funded Midlands Innovation TALENT project to provide greater understanding of research culture from the perspective of technicians as key research enablers and teachers.
Report themes explore relationships and interactions with other categories of staff, team inclusion, wellbeing, and quality and integrity in research, recognition and visibility through a technician lens. It provides a clearer picture of research culture and complements previous studies carried out by Wellcome and ARMA.
The findings draw comparisons with existing data. For instance, 45% of technicians experienced or witnessed bullying in comparison to 43% of research managers and administrators (ARMA:2020), highlighting the need to improve and sustain a healthy research culture.
Data also revealed that 31% agreed that the quantity of work compromises the quality of research outputs, 27% agreed that health and safety was deprioritised in favour of other tasks.
Technicians engaged positively with questions on how to improve research culture, highlighting that they are part of the solution, which helped to inform several recommendations to improve institutional and sector-wide practices.
These include ensuring technical representation on committees, crediting technical staff on research publications and outputs, broadening career pathways and ensuring dedicated time for professional development and protected time for implementing health and safety practices.
Catrin Harris, Research Fellow for MI TALENT explained why this report was important for employers of technicians and the wider higher education and research sector to consider within conversations around research culture.
"This report offers additional insight into research culture from the perspective of the technical community. A lot of valuable work has already taken place on the topic, which considers viewpoints from the research community including academics, PIs, PhDs, but there has been limited information on technicians – who play a critical role in research," she explained.
"Technicians are a vital part of research teams and should play a role in influencing and contributing to research culture initiatives. This includes inputting on data collection, being credited on research outputs, publications and as student supervisors on student projects.
"There is also a need for greater understanding of, and respect for, the role that technicians play in research, and for them to be supported in these roles and their career development. Existing tools such as the Research & Innovation Enabler Café Culture Toolkit can help encourage positive, solution-based conversations."
Hilary Noone, Research and Innovation Culture Lead from UKRI said: "This is a welcome and timely report that greatly aligns with UKRI's strategy and ambitions of Transforming Tomorrow Together.
"We believe supporting diversity of ideas, people, activities, skills, institutions and infrastructures are core to building an outstanding research and innovation system. Technicians are an essential component of this system who we need to support, to ensure our research cultures are shaped by everyone for everyone to truly flourish."
Kelly Vere MBE, Programme lead for TALENT and University Director of Technical Strategy at the University of Nottingham also commented: "The issues around recognition and visibility addressed in this report highlight that, while progress is being delivered through the Technician Commitment, some of the issues are long-standing within institutions and across the sector.
"I am confident this report and its recommendations offers guidance to organisations who are looking to make positive changes to their research culture and shows that technicians can help influence positive change through active engagement.
"The report also provides additional context on the current research environment following the publication of the TALENT Commission report which shares strategic insight on the UK's technical community".
Download the report here
The Research & Innovation Enabler Café Culture Toolkit can be downloaded here