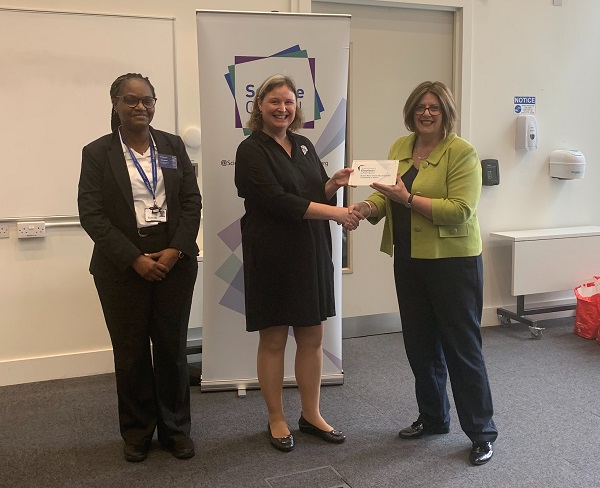 Queen Mary University of London has become an Employer Champion
Pictured is Anne Parry receiving the Employer Champion award from Jane Banks, Science Council External Relationships Manager, who runs the Employer Champion Programme. Alongside them is Nadia Rahman, Histopathology Manager, at Barts Cancer Institute, which is part of QMUL. Nadia became a CSci with IBMS as part of the process of the university becoming an Employer Champion.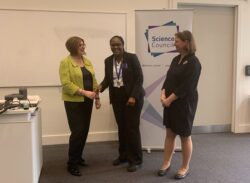 On Tuesday 13th September Queen Mary University of London (QMUL) held their Technical Staff Symposium, as part of the day's events they received the Employer Champion Award.
Anne Parry, Faculty Director of Operations, and Technician Commitment lead, accepted the Employer Champion award on behalf of QMUL from Helen Gordon, Chief Executive of the Science Council. Helen presented the award via video message and extended her congratulations to those who have become professionally registered.
"Professional registration is an important milestone for any technician. It establishes your proven knowledge, understanding and competence."

Helen Gordon, Science Council Chief Executive
The Science Council awards Employer Champion status to organisations as a mark of their dedication to the quality and practice of science through the professional development and registration of their scientific staff.
QMUL became a Technician Commitment signatory in 2018 and professional registration was a priority for the university from the beginning. They launched a Professional Registration Fund in May 2020 and are currently supporting their 3rd annual cohort.
"I am delighted that Queen Mary University of London has received Employer Champion status with the Science Council. Our ambitious 2030 Strategy has its people at its very centre and this recognition highlights our ongoing commitment to open the doors of opportunity for our staff and students.  We look forward to building on this success as we implement our three year Technician Commitment Action Plan and will continue to support our staff in achieving professional registration to highlight their skills."

Anne Parry, Faculty Director of Operations for Science and Engineering
The Technical Staff Symposium event aimed to provide a forum for discussion, networking opportunities, and communication between Technical Staff, Technical Managers and interested Professional Services colleagues. QMUL support their technical staff in a variety of ways such as setting up their TechNET intranet site, a bespoke mailing list and social media presence.