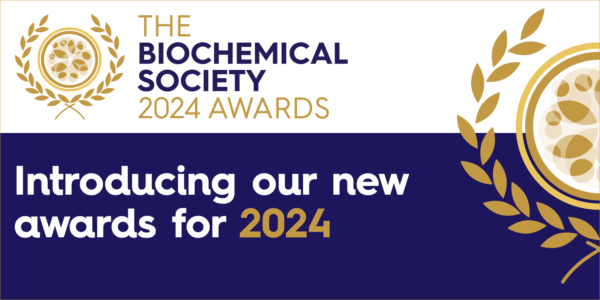 New Biochemical Society 2024 Awards open for nominations
One of our Member's the Biochemical Society are excited to introduce a new portfolio and nomination process for the Biochemical Society 2024 Awards – which are now open for submissions! Incorporating feedback from a community survey undertaken earlier this year, they're delighted to launch new awards and amended criteria for their longstanding prizes, delivering an inclusive and accessible Awards programme that celebrates the outstanding achievements and diversity of the molecular bioscience community.  They're also introducing a streamlined nomination process, which simplifies the submission cycle:
Stage 1: initial nominations are submitted via an online form by 1 November 2022
Stage 2: full nominations are submitted for shortlisted candidates by 31 January 2023
Recognizing early career researchers, scientists, educators, and industry partners, this is the community's chance to nominate an individual, team, or organization for their work, with submissions welcomed by and for both members and non-members. Featuring categories for both specific and general fields of science, all their awards and medal lectureships carry monetary prizes and career enhancing opportunities. Recognition includes the invitation to submit an article to one of their journals, present an Award Lecture at a Society meeting or webinar, mentoring, and the chance to help shape the future of the Society and their publishing arm, Portland Press.
Visit their website for more information on all their awards: www.biochemistry.org/grants-and-awards/awards/