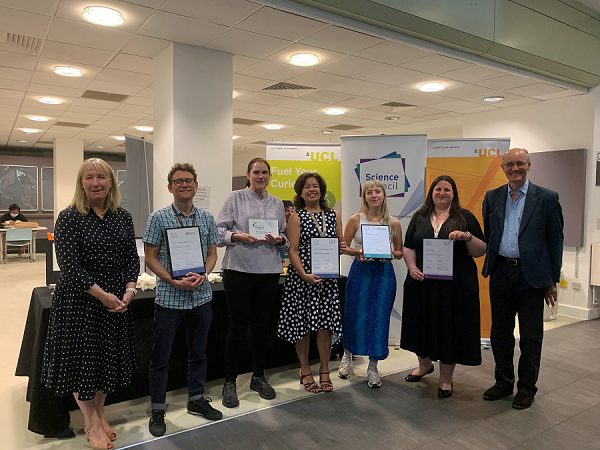 UCL become our latest Employer Champion
The Science Council is delighted to welcome University College London (UCL) to our Employer Champion Programme.
UCL hosted a launch event on Thursday 28th July at the School of Pharmacy. Professor Nigel Titchener-Hooker, Dean of UCL Engineering and Senior Sponsor of the Technical Staff Project at UCL opened the event.
"This is a celebration for certain employees here at UCL, it's an opportunity to celebrate their successes, but it's also an opportunity to look forward, particularly to the work we're doing to promote our technical staff."

Professor Nigel Titchener-Hooker
Science Council Chief Executive, Helen Gordon presented the Employer Champion award to Fiona Ryland, UCL Vice President (Operations). Helen used this opportunity to highlight the vital role technicians play and the importance of being recognised through professional registration.
"Congratulations to all staff here at University College London who have already achieved professional registration. We're delighted that the University will be supporting others to achieve external recognition of the high standard of technical expertise that technicians bring to their organisation."

Helen Gordon
After receiving the award on behalf of UCL Fiona Ryland spoke about why she thought it was important to get involved with the Technician Commitment, which the university has been a signatory of since 2018.
The Employer Champion programme provides a support package for employers that have made the commitment to guide their scientific staff through the process of professional registration. Becoming a Science Council Employer Champion shows staff and potential recruits the commitment of the employer to develop staff skills and competence. Now that UCL has joined the programme we have 32 Employer Champions.
As part of the process of the University gaining Employer Champion status, five members of staff become professionally registered:
Dr Adam Day, CSci (RSB) – Lab Manager, Institute of Child Health
Alison Dolling, RSci (IST) – Senior Technician, School of Pharmacy
Isabel Goncalves Cattuzzo, CSci (IST) – Departmental Laboratory Manager, School of Pharmacy
Kate Keen, RSci (IST) – Technical Manager, Teaching Laboratories, School of Pharmacy
Ella Lilliebjerg-heder, RSciTech (RSB) – Technician, School of Pharmacy
Congratulations to UCL and the individuals who became registered in this process.
Watch the launch event below. Credit to UCL School of Pharmacy.