University of Southampton launched as an Employer Champion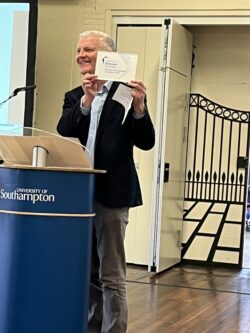 The Science Council are pleased to announce the University of Southampton has been awarded Employer Champion Status.
A launch event took place on Wednesday 30th March as part of the University's first ever Technician's Conference. Science Council CEO, Helen Gordon, presented the award to Michael Butler, Dean of the Faculty of Engineering and Physical Sciences, and those present, via video message, in which she thanked the staff at the University of Southampton for all they are doing for science professionals and science more broadly.
"My personal congratulations go to all staff at the University of Southampton who have already achieved professional registration. We are delighted that the University will be supporting others to achieve external recognition of the high standard of technical expertise that technicians bring to their organisation."
The University of Southampton is a research-intensive university. It is ranked 16th in the UK in The Times Good University Guide 2022 and in the top 100 in the QS World University Rankings 2022. The University has also been involved in the Technician Commitment since 2018.
The Employer Champion programme provides a support package for employers that have made the commitment to guide their scientific staff through the process of professional registration. Becoming an Science Council Employer Champion shows staff and potential recruits the commitment you, an employer has to develop staff skills and competence. With the addition of the University of Southampton the Science Council now has 31 employer champions.
We would like to take this opportunity to congratulate the University of Southampton on achieving the Employer Champion Award and celebrate those who have become Professionally Registered.
The following staff at the University have become professionally registered as part of the process of gaining Employer Champion status.
James Thompson, CSci, Specialist Electron Microscopist, FMed
Dr Katie Dexter, CSci, Experimental Officer, Biomedical Imaging Unit, FMed
Kerry Spiers-Fitzgerald, RSci, Laboratory Technical Manager & RPS, Clinical and Experimental Sciences, FMed
Dr James Orton, RSci, Specialist Technician, UK National Crystallography Service, FEPS
Harry Morris, RSci, Research Technician for Earth Observation, School of Geography and Environmental Science, FELS
Find out more about the University of Southampton here.