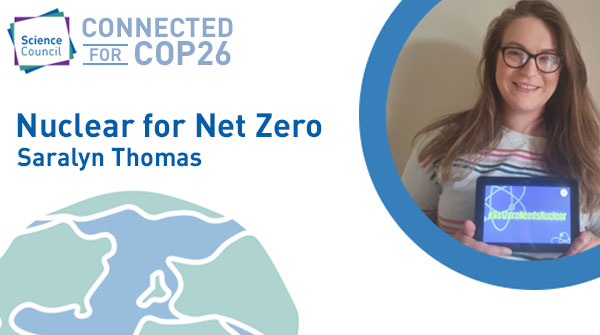 Connected for COP26: Nuclear for Net Zero?
By Saralyn Thomas, YGN Vice-Chair and International Liaison
2021 is a pivotal year for the climate. In November, Glasgow will host the United Nations (UN) Climate Change Conference, COP26. The climate talks will be the biggest international summit the UK has ever hosted, bringing together over 30,000 delegates including heads of state, climate experts and campaigners to agree coordinated action to tackle climate change. COP26 is particularly important as it will be the first time nations come together to discuss the commitments they made in the Paris Agreement at COP21.
The Nuclear Institute, the learned society for the UK nuclear sector, is a member of the Science Council, and its Young Generation Network is partnering with the European Nuclear Society (ENS), a UNFCCC accredited Non-Governmental Organisation (NGO), to coordinate nuclear representation in the UN controlled zone at COP26. As a result, the YGN has set up a team of young, international volunteers made up of scientists, engineers and communicators who are passionate about saving our planet. Our mission is to accelerate the ability of the world to achieve Net Zero by 2050, by driving collaboration between nuclear and renewable technology.
So how exactly could nuclear energy help the UK achieve its net zero targets?
Nuclear energy is an effective low carbon energy source.
Nuclear has been a key low carbon energy source for over 60 years. With around 440 reactors in operation across 30 different countries, nuclear accounted for 10% of global electricity production at the end of 2019 . It is the second largest global source of low carbon energy, behind hydropower and therefore could replace current reliance on polluting fossil fuel sources.
Nuclear energy is available, scalable and deployable.
The consensus across major international institutions is that all low carbon technologies, including nuclear, will need to be deployed urgently and at scale in order to achieve Net Zero targets. Nuclear is an available and scalable technology with a limited footprint, which has been deployed rapidly to positive effect in the past. It can also be integrated with an increasing supply of variable renewables to deliver efficient and affordable clean energy systems.
Nuclear is capable of supporting the decarbonisation of other sectors, such as heating and
transport.
Global electricity production, which is projected to increase significantly, currently accounts for 40% of total greenhouse gas emissions and it is still dominated by fossil fuel sources (64% of total electricity production). Nuclear reactors also have the ability to supply heat to support more diverse non-electric applications that would provide economic, environmental and efficiency-related benefits . These wider 'cogeneration' applications can include, amongst others, district heating, industrial process heat and seawater desalination.
Nuclear supports inclusive and sustainable global development: Nuclear promotes global socioeconomic benefits and is strongly aligned to the UN Sustainable Development Goals.
Nuclear is strongly aligned to the UN Sustainable Development Goals (SDGs) and can be used to address energy poverty by delivering clean energy globally, supporting high living standards, good health, a clean environment and a sustainable economy.
"We truly believe we need to work together to meet net zero so we can save our planet – and that includes nuclear energy as part of the energy mix."
To highlight the importance of nuclear towards achieving net zero goals, we created the #NetZeroNeedsNuclear campaign in order to promote awareness and drive support of nuclear as a low-carbon energy source.
We have also been running a series of advocacy activities including speaking at webinars and on podcasts about how nuclear and renewables can work together, running a school speaking competition called "Speak Up for Net Zero" to get the next generation of scientists speaking about climate change solutions and meeting with policymakers internationally about the benefits of nuclear.
You can support the Nuclear Institute or find out more about their #NetZeroNeedsNuclear campaign by visiting the dedicated website: NetZeroNeedsNuclear.com or by contacting us on ygncop26@nuclearinst.com.
Enjoyed Saralyn's article? Read the rest of the Connected for COP26 series here.