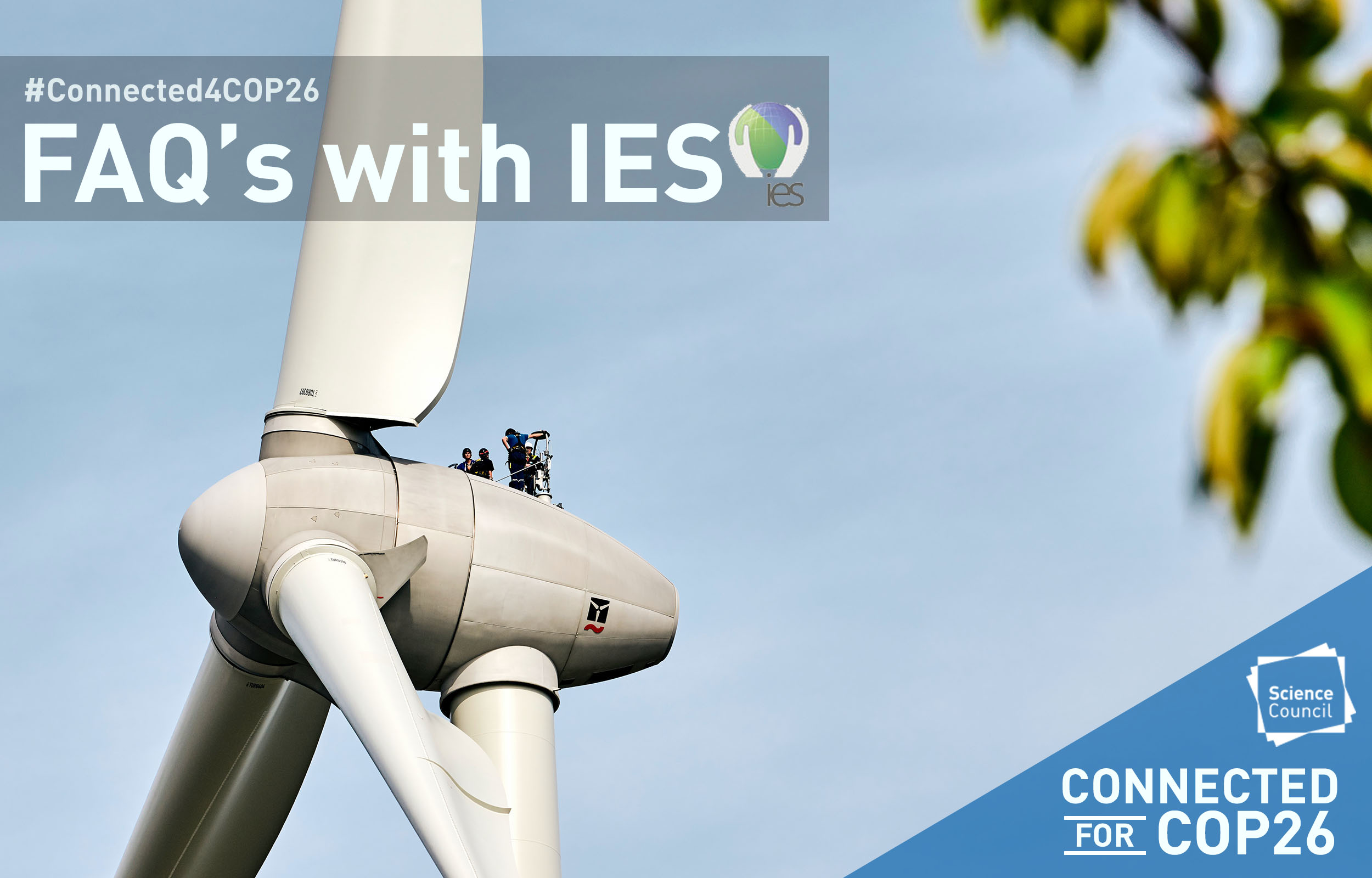 COP26 FAQ's with IES
In November, the UK will host an event many believe to be the world's best last chance to get runaway climate change under control: COP26.
With the help of environmental policy expert and Policy Lead at the Institution of Environmental Sciences (IES), Joseph Lewis, we've pulled together a list of frequently asked questions relating to all things COP and tackling climate change.
What does it mean to be net zero?
"When we talk about net zero, there are subtly different definitions, but fundamentally it means getting emissions as close to zero as possible while addressing those which cannot be mitigated, to the point that we reach a society that is no longer in a climate crisis."
'Net zero' is a term often used interchangeably with 'carbon neutral', however the two actually have different meanings.
Carbon neutrality means balancing greenhouse gas (GHG) emissions by 'offsetting' – or removing from the atmosphere – an equivalent amount of carbon for the amount produced.
This can be achieved by buying 'carbon credits' – in essence, permission to emit carbon dioxide or other GHG in exchange for offsetting the effects of those emissions or by supporting GHG-reduction initiatives such as renewable-energy projects.
However, a commitment to carbon neutrality does not require a commitment to reduce overall GHG emissions. A carbon-neutral business needs only to offset the GHG emissions it produces – even if those emissions are increasing.
In contrast, a commitment to net-zero carbon means reducing greenhouse gas emissions with the goal of balancing the emissions produced and emissions removed from the earth's atmosphere.
How far away are we from achieving net zero targets?
"Achieving the targets will mean setting strong ambitions and creating a chain of accountability to make sure that action is taken, and more still needs to be done."
Reaching 1.5 degrees Celsius relies on the willingness of governments and individuals.
UK emissions were 48% below 1990 levels in 2020. This reduction reflects the impact COVID-19 had on emissions in 2020, much of which is not expected to be permanent. The fall in emissions between 2019 and 1990 was 40%.
The first and the second carbon budgets have been met and the UK is on track to meet the third carbon budget, but is not on track to meet the fourth, which covers the period 2023-27 or the fifth, which covers 2028-32. Crucially, these budgets were set against the previous target of an 80% reduction in emissions by 2050. The new Net Zero target (at least 100% reduction by 2050) means that progress will need to accelerate.
Why is COP26 so important?
"COP26 represents an important opportunity to set high level ambition and a global transformative response to climate change."
COP26 will represent an important time for negotiation to take place and to set the practicalities in place to enable the transition to net zero.
The COVID-19 pandemic has shifted priorities and there has been a refocus on environmental problems, leading countries to look to rebuilding their economies through a 'green recovery'.
Furthermore, COP26 is seen as the summit to address what hasn't been achieved since the Paris Agreement was put in place, while also setting concrete plans to reach those Paris Agreement targets.
How important is it that we address the problem of climate change from an interdisciplinary angle?
"It is vital that we look at the problems surrounding climate change from an interdisciplinary angle. Crises like climate change are caused by the ways we interact with complicated social and natural systems which require transdisciplinary and multidisciplinary understandings to address."
Problems like climate change typically cannot be addressed adequately from a single perspective and therefore collaboration between disciplines is essential. The complex challenges posed by climate change require expert thinking from across natural sciences, engineering and social sciences to understand how problems develop as well as the technological and behavioral changes needed to mitigate them.
What are the next steps, moving forward?
According to Joseph:
"COP26 is just the first step of our journey to net zero. In the run up to COP we need to make sure we have the best information available to make the most of that opportunity.

We need clear and digestible science for policy makers and communities on the ground to easily understand.

Following COP, it will be all about monitoring and adjusting our net zero pathway to make sure we stay on track."