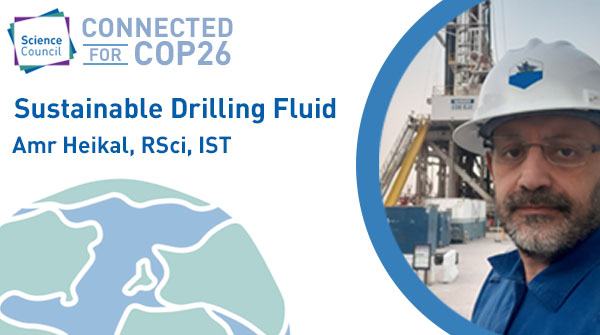 Connected for COP26: Producing sustainable drilling fluid alternatives
By Amr Heikal RSci, Operation Coordinator on behalf of IST.
A new, more sustainable drilling fluid has been produced which reduces pollution and carbon emissions and improves the health conditions of workers.
In geotechnical engineering, drilling fluid is used to aid the drilling of boreholes into the earth. Broadly speaking, drilling fluid can be broken down into water-based muds, non-aqueous muds and gaseous drilling fluids.
Most current operators in the world prefer non-aqueous fluids (NAF) –  drilling fluids that are oil-based – over water-based mud systems to drill wells, mainly due to wellbore stability issues and lubricity.
In a recent project, conducted by Kuwait Oil Company, engineers have found a more useful water-based mud drilling fluid as a new, environmentally friendly alternative to NAF's.
Amr Helikal, Operation Coordinator, worked on the project:
"I started the project by collecting various information on the wells drilled, problems encountered and the objectives we need to meet if we want to implement this new technology. Through communicating with client representatives and colleagues at work, I have managed after a few meetings to agree on required lab testing to compare the performance between the two fluids."
The new fluid is formulated to use with varying water salinities from freshwater to saturated brines and proved highly successful when compared to conventional fluid systems in field trials.
"By 2021 I achieved a milestone and drilled over 20 wells with the new system. That not only added profit but also enhanced the company reputation. This had a great result for reducing pollution, improve health conditions for workers and reducing carbon emissions as we replaced close to 6 million liters of Diesel to be used by the new water-base system."

"As a result of this achievement, I was awarded the Fluid Technical Excellent Award from Kuwait Drilling and the project itself won the TEF Kuwait 9th Technological Innovations Award."
Amr also initiated a Go-Green project to plant more trees and shrubs that can adapt to extreme heat to help with the reduction of global warming and to improve working conditions.
"Getting team members to join was a challenge but eventually step by step when people started to see the good outcome they started to get interested. Educating others about the risk of global warming and how we can mitigate it is extremely important."
Connect with Amr:
https://www.facebook.com/aheikal/
https://www.linkedin.com/in/amro-heikal-1a834b45/