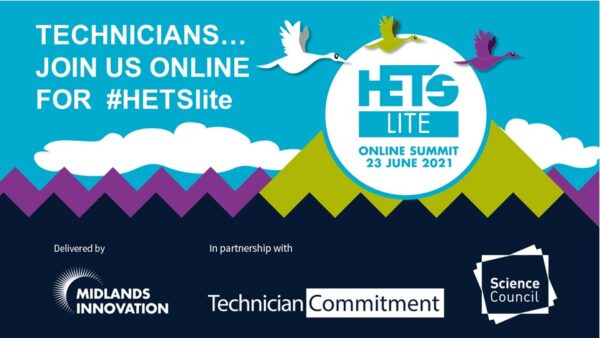 Midlands Innovation launches a new additional HETS digital conference
Midlands Innovation, founder of Higher Education Technician Summit (HETS), is delighted to announce exciting new developments to the nationwide gathering of technicians working in the HE and research sectors, in partnership with the Science Council. 
This year, an additional digital conference, HETS Lite, will take place on 23rd June to address key topics and issues impacting the technical community along with sessions that facilitate the sharing of best practice across the sector. The summit will be a free online webinar dedicated to topics that the higher education and research technicians want to explore and discuss.
A new date is also announced for HETS 2021 – the UK's fourth biennial event for higher education and research Technicians – which will take place on 10th November 2021 at the East Midlands Conference Centre, on the University of Nottingham's main campus.
Kelly Vere  MBE, Technician Commitment lead for the Science Council, Director of Technical Skills and Strategy at the University of Nottingham, and Co-Lead of Midlands Innovation's TALENT programme, said: "We are absolutely thrilled to be offering an additional online summit for the higher education and research sector's technical community this year.

"HETS is a really popular event and  always oversubscribed, so we are excited to be able to host a dedicated online event, while moving HETS 2021 to the autumn, will provide us with an opportunity to host the largest gathering of higher education and research technicians in the country to date.

"We have listened carefully to the views of the technical community when developing HETS 2021. The community very much fed back that they wanted HETS 2021 to be a physical summit, and with the country's vaccine programme now being rolled-out, planning an event to take place in the autumn will give us the best opportunity of delivering this to as large a number of technicians as possible, while the addition of an online conference in June will provide a new and additional opportunity for more of the sector's technical community to take part in HETS this year."
Sharing technical knowledge
The UK Higher Education Technicians Summit (HETS) is dedicated to sharing best practice amongst technical staff working in higher education and research in the UK and Ireland.
The roles that technicians undertake, usually behind the scenes, are vital in ensuring the success of our universities and research institutes, providing academic, research and student colleagues with the essential technical expertise that they need to enable their research and teaching.
As a highly skilled workforce, around 30,000 technicians currently underpin research, teaching, knowledge transfer and innovation at UK universities, and many are researchers and educators in their own right, teaching and training students and researchers at every level.
Papin Prizes
The Papin Prizes, the UK's only dedicated awards to recognising technical excellence, will be presented at a special award ceremony at HETS 2021 on 10 November, with the deadline for nominations extended to 1 July 2021.
Alongside the seven existing categories of the Papin Prizes, this year there will be an additional COVID-19 Recognition award recognising the efforts of a technical team or an individual colleague during the pandemic.
Dr Helen Turner, Director of Midlands Innovation, which hosts HETS, said: "The technical community has gone to huge lengths to be at the forefront of swiftly transitioning academic teaching online, in undertaking all of the requirements in making university campuses COVID-secure, as well as making vital contributions in supporting world-leading COVID research being undertaken by universities, and so we are pleased to announce this additional Papin Prize award.

"HETS Lite and HETS 2021 provide two opportunities for the technical community to come together to celebrate the work of technicians, while also helping to develop skills, and giving technicians the opportunity to network with each other both online and in person, making invaluable new contacts in the technician community."
HETS 2021 & HETS Lite
HETS Lite and HETS 2021 will both be hosted by the Midlands Innovation in partnership with the Science Council.
HETS 2021 is expected to be the largest event held specifically for UK and Ireland higher education and research technical staff, building on the success of three previous summits held at Birmingham in 2019, Warwick in 2017, and in Nottingham in 2015, while HETS Lite will be a special digital summit for the sector's technical community.
HETS 2021 will structured around a range of "hot topics" including the progress of the UK's first technician-focused Policy Commission, and the Government's recently published R&D Roadmap and planned expansion of Research and Development funding, as well as a providing a platform to discuss broader issues around technical skills and education, including the importance of technicians in driving forward innovation, and the latest initiatives to ensure the future provision of technical education to young people.
Midlands Innovation
Midlands Innovation is a partnership of the Midlands most-research-intensive universities, they are; Aston, Cranfield, Keele and Loughborough University, and the Universities of Birmingham, Leicester, Nottingham and Warwick.
Midlands Innovation is leading the way in the development of the UK's higher education and research technical community. In 2020 it secured funding from Research England and partners for a programme called TALENT, the largest ever investment in the career advancement of technicians in universities.
The programme, including the findings of the UK's first technician-focused Policy Commission, is expected to act as an academic blueprint for increasing professional development opportunities for technical colleagues across the region, the wider UK and beyond.