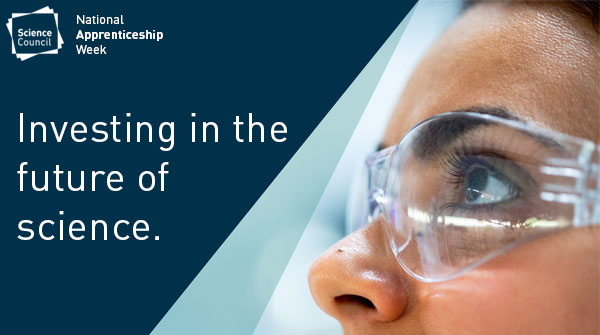 Apprenticeships: Benefits of Professional Recognition
By Tom Cheek, Apprenticeship Lead
An apprenticeship standard delivers full occupational competence, with independent end-point assessment validating that knowledge, skills and behaviours are at occupational standard.  An apprentice gains a significant 'bank' of professional experience that underpins these abilities and knowledge by contextualising into a working practice.
This offers a solid platform for individuals to go on to apply for professional registration with a professional body aligned to their working discipline.
A definition used by the Science Council of a Professional Body is 'an organisation with individual members practicing a profession or occupation in which the organisation maintains an oversight of the knowledge, skills, conduct and practice of that profession or occupation'.  By securing a place on a professional body register(s) it demonstrates a long-term commitment to working to the highest standards of ethical practice with continuous professional development as part of this dedication.  All of which is peer assessed so further verifying the quality of ones' work.
Professional bodies and learned societies may also offer membership to apprentices (as students) at the beginning or during their programme of learning.  This membership can offer to the individual a component that forms part of their personal learning network.  With the pace of change and emergence of new theories and understandings this holds significant value.  This network may also offer access to a supportive and reliable source of information to share knowledge.  Individuals can access a level of collective intelligence, benefitting from and contributing to discussions and forums, with engagement by both peers and topic experts.  By bringing these ideas, values and experiences together, it allows individuals to reflect on their own experiences and form or cement judgements.
At completion of an apprenticeship, by securing professional registration it can offer the use of post nominals.
'Post-nominal initials or titles are letters placed after the name of a person to indicate that the individual holds a particular position, qualification, accreditation, office or honour'. (Guidance on Post-Nominal Letters | Graduation | Loughborough University, 2020).
For example, with the Science Council professional registers and those of its' members, the use of a few letters placed after an individuals' name signifies the level of competence they hold.  These few letters communicate to an employer, potential employer and/or the general public that an individual has a commitment to being bound by a code of conduct and keeping continuously up to date and industry relevant.
This commitment of keeping up to date is encouraged and facilitated by the process of applying for professional registration initially and as an ongoing concern, with individuals reflecting on what they have achieved, the experiences they have gained and the opinions and values they have formed.  This helps to identify gaps to further develop their skills and challenge their current values.  When combining this with identifying their strengths, individuals can make plans for future learning and ensure development activities hold focus to their recognised needs.
A commitment to quality is something sought after and valued by employers, with individuals demonstrating their pledge to a standard and integrity to their work.
Professional registration allows individuals to establish their professionalism and build upon this to reflect the various stages of their career.  This commitment to excellence demonstrates an individual considers their abilities and performance in a holistic way, with both the need in developing specialist skills and transferrable abilities too.
Find more apprenticeship blogs here.
References 
Lboro.ac.uk. 2021. Guidance On Post-Nominal Letters | Graduation | Loughborough University. [online] Available at: <https://www.lboro.ac.uk/students/graduation/certificates/post-nominal-letters/> [Accessed 18 January 2021].
Hard of hearing, or just prefer to listen? Find our Soundcloud here: