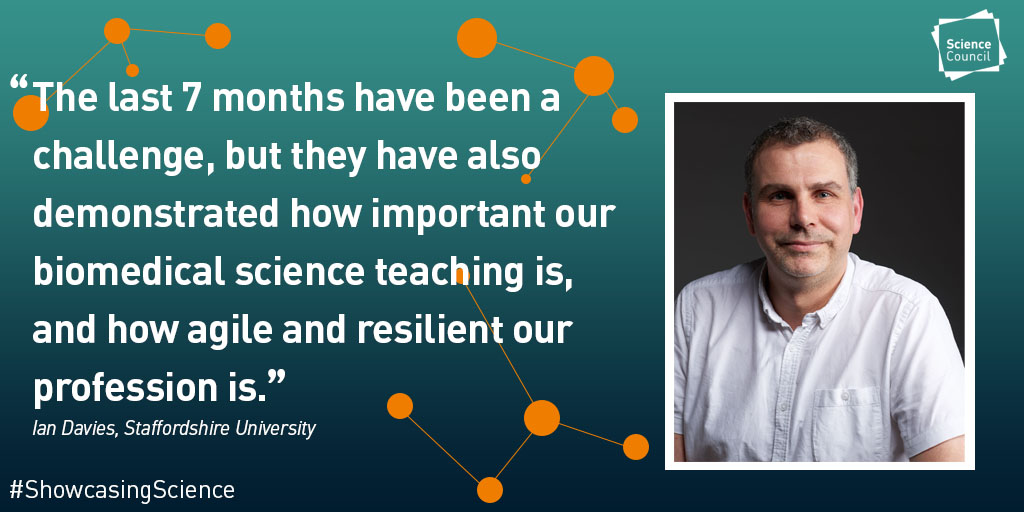 Showcasing Science: Resilient Biomedical Scientists
Ian Davies, Healthcare Science Course Leader and HCPC Registered Biomedical Scientist at Staffordshire University
As an academic Biomedical Scientist working through the pandemic, the challenges posed by COVID-19 have been vast, but so too have been the opportunities to work with colleagues to develop innovations and new working practices at pace.
When we first became aware of this new emerging disease in January, it immediately became a focus of our undergraduate teaching. From discussing infectious disease transmission, to the interpretation of sensitivity and specificity of new diagnostic tests, students were able to apply their understanding to this rapidly developing event. Before the Government's initial contingency plan had been published, our students had already developed plans for a wide range of fictitious scenarios, including a campus outbreak, media briefings, and plans to repatriate placement students abroad.
From early February, media interest increased, and we were receiving daily requests for media interviews and comment. Balancing the need for scientific accuracy with clear 'down to earth' communication is difficult, especially when trying to convey the potential seriousness of the situation without causing public panic. Throughout the pandemic my colleague, Dr Arthur Hosie, has made weekly appearances on local radio, trying to translate the Government guidelines, answer listeners' questions, and allay rumour. With the rolling news coverage, and uncontrollable commentary on social media, the availability of non-partisan, evidence-based advice from a local trusted academic has been made a significant contribution to the public understanding of the disease, and is a vital role of civic universities such as Staffordshire University.
As the extent of the possible outcomes of the pandemic became clear, my attentions were focussed two-fold. Firstly, to provide support and guidance to our 70 degree apprenticeship students working in pathology departments across England, and secondly to offer what support I could to the diagnostic response.
Speaking to our students, it was clear that they were at the very centre of the diagnostic response, developing new ways of working, taking on additional responsibilities and transitioning in to evolving roles. Their wellbeing was our main concern, and so we worked as an academic team to support their management of work, together with providing regular 'check ins' and access to support services. In their work we were also keen to capture the rapid learning they were undertaking – although working under extreme pressure, their learning and experiences were 'once in a career' opportunities to develop.
As the need for an increased diagnostic workforce became evident, I worked with the Institute of Biomedical Science to develop learning resources for retired biomedical scientists returning to clinical practice, ensuring that staff re-entering the clinical workforce had the necessary skills for safe and effective practice.
When it became clear that a national lock-down was imminent, our priorities turned to converting the learning, teaching and assessment of our on campus to a remote delivery model, and ensuring we could support students who lacked appropriate IT resources, needed to shield or undertake carer and home schooling roles, or faced difficulties in returning to their home countries. As this proceeded, most of April and May become a blur, rapidly upskilling in online technologies such as MS Teams, ensuring the academic integrity of assessments and supporting students whilst also balancing my own home schooling and carer roles.
Now that teaching and assessment has been completed for the year, my thoughts are now turning to September and the new academic year  – for example how to deliver a practical 'hands on' course whilst maintaining a COVID secure environment, or how to work with colleagues to develop engaging blended learning that can accommodate the needs and pressures of students in further potential lock downs. In amongst this, how can we support our local pathology team as they face the potential of a second wave amidst the pressure of the usual winter respiratory infections.
The last 7 months have been a challenge, personally and professionally, but they have also demonstrated how important our biomedical science teaching is, and how agile and resilient our profession is.
This blog was published as part of our Showcasing Science: Behind the scenes of COVID19 series. Read the rest of the blogs here.