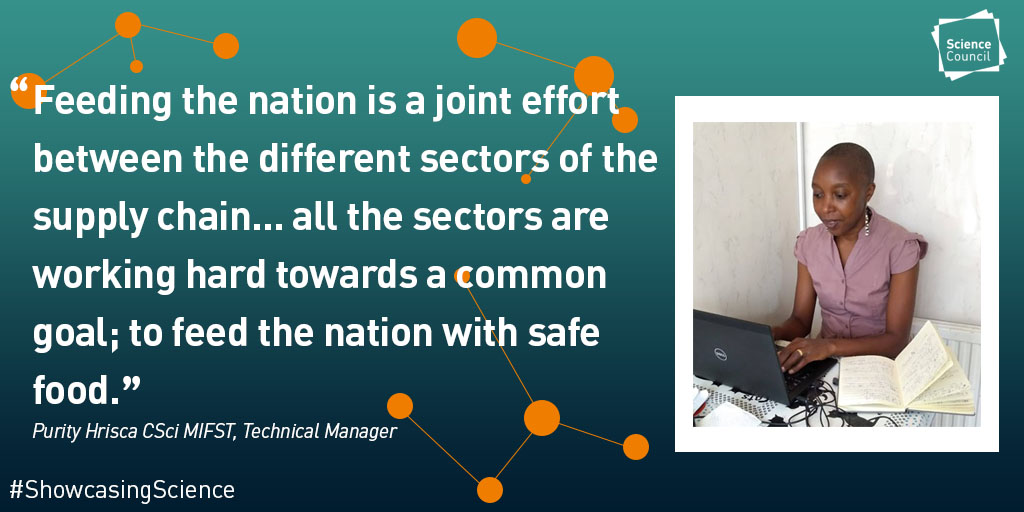 Showcasing Science: Managing food safety during COVID19
By Purity Hrisca CSci, MIFST
My name is Purity Hrisca I am a Chartered Scientist working as a technical manager within the retail food sector.  I work closely with various food industry stakeholders from product development, manufacturing, supply chain up to the point when the consumer purchases the product. My job is to ensure that when the consumer buys the product, it is safe, legal and of good quality. I love the role I play in feeding the nation and I am proud to be of service to the consumer.
Covid-19 pandemic has presented several challenges to the food industry's ways of working. As an industry we have had to adapt, be creative and change our ways of working.  Due to the lockdown and physical distancing, many collaborative activities have had to change how they transpire, with many activities occurring via video calls and conferencing.  As a food industry professional, I feel that the pandemic has strengthened partnerships and forged new ones between different sectors of the food supply chain.  We have all been working towards one goal; feeding the nation with safe food.  Each sector has had to do their bit, overcome challenges within that particular sector with support from the other sectors so as to deliver the overall objective of feeding the nation, with safe food.
As a Retail Technical Manager, my role in feeding the nation is that of food safety custodian. I am responsible for the food safety element of new products within my area through the development process till products are launched in stores and ultimately till they are consumed.  I am responsible for ensuring complaints relating to my product area are thoroughly investigated and preventative measures against recurrence are put in place as part of fulfilling my company's vision of being the most trusted retailer where customers love to shop.
I work closely with my product development colleagues to ensure that food safety and sustainability are at the heart of the products we develop.  Under normal circumstances, the concept and product selection stages of the development process take place in rooms or kitchens with the project's key internal stakeholders present.  With lock down, stakeholders have had to be creative.  We brainstorm over video calls, inspect samples separately at home and then feedback over group video calls.
Working with external stakeholders during the Covid-19 pandemic has demonstrated creativity, focusing on the goals and working around challenges as a team. Partnerships and working relationships with my counterparts in the supply base have become stronger as we work towards a common goal, feeding the nation with safe food. It has been a case of acknowledging we are living in challenging times and collaboratively looking for ways to overcome these challenges and deliver safe products. Due to the lockdown and physical distancing measures put in place because of Covid-19 we work differently.  Where before I would have attended production trials, suppliers of my products have to run trials and post samples to my home for inspection since personal safety and the safety of other stakeholders is a priority.
As a food scientist, I rely on my knowledge to find solutions where conventional methods of doing things are a challenge due to the restrictions brought about by the Covid-19 pandemic. I focus on outcomes and think of risk and their mitigations without losing sight of the overall goal, to ensure the customer gets a safe and quality product.  Being registered as a Chartered Scientist keeps my professional development at the forefront of my mind so as to meet the Continual Professional Development (CPD) requirements.  An up to date CPD log and thirst for knowledge plays a role in equipping me with the knowledge and skills which I call upon when I find myself with challenges that have no simple solutions.
Feeding the nation is a joint effort between the different sectors of the supply chain. As part of an interdependent system, all the sectors are working hard towards a common goal; to feed the nation with safe food.
This article was published as part of our Showcasing Science series, read the rest of the blogs here.