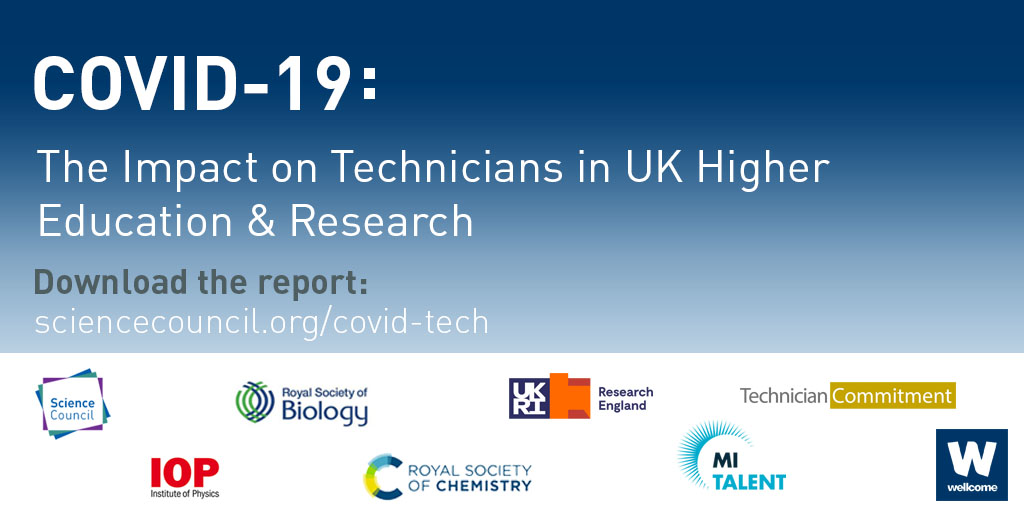 COVID19: The Impact on Technicians in UK Higher Education & Research
A new report from the Technician Commitment and partners highlights the impact of COVID-19 on the technical community in higher education and research.
A collaborative team consisting of the Technician Commitment, Science Council, Institute of Physics, Royal Society of Biology, Royal Society of Chemistry, Wellcome and the Research England funded Midlands Innovation TALENT programme undertook a national survey in order to understand the impact of COVID-19 (Coronavirus) on the technical workforce in higher education and research. Over 1300 responses were collected from technicians across 99 universities and research institutes from all four nations of the UK.
The resulting report, 'COVID19: The Impact on Technicians in UK Higher Education & Research' offers unprecedented insight into the impact of the pandemic on working practices for technicians and shines a light on technical contributions at an extraordinary time. The technical community has been at the forefront of the sector's response to COVID-19, with many technical colleagues closely involved in the rapid shut down of facilities and campuses.
Technicians have also made a significant contribution to the civic response to the pandemic, for example collating, manufacturing and distributing PPE, manufacturing hand sanitiser and enabling and supporting COVID-19 research and the national testing effort. As campuses and facilities gradually reopen, technical colleagues are ensuring a safe return to work, designing and implementing new processes and policies to ensure a safe, and socially distanced working environment for all.
The report offers a number of recommendations in order to ensure visibility, recognition and inclusion of the key roles of the technical community in the safe return to campuses to ensure all involved are fully supported.
Report recommendations include;
Clear communication is to technical managers and their teams is vital to implement and maintain safe working environments for staff and student colleagues.
Inclusion of technical representatives on COVID-19 reopening working groups is essential – the practical experience and expertise offered by technicians is essential and should be utilised wherever possible.
Technicians should be recognised for their frontline role in delivering high quality, practical teaching and learning experiences for students. Recognition should be ensured in strategic planning discussions around future teaching and learning provisions, due to the essential role of technicians in multi-user workplaces.
The technical community need tailored provision to support their mental health and well-being. Care should be taken to ensure that their wellbeing is fully supported following frontline work and periods of furlough, and that this support should be widely visible.
There is a clear appetite for continued professional development from the technical community. Organisations are encouraged to offer guidance and training for technical staff through the provision of appropriate, timely and accessible training and support resources for technicians.
Organisations should ensure the provision of funding for grant extensions is inclusive of technical roles.
The promotion and development of technical networks to enable the sharing of guidance, best practice and experiences.
Future models of flexible working should be considered for the technical community where possible. The majority of technicians reported that they have been able to work from home during the lockdown period, offering insight into possible future ?exible working arrangements for technical staff.
Kelly Vere, Programme Director for the Technician Commitment and Director of Technical Skills & Strategy at the University of Nottingham said:
"Technical colleagues across the sector have been at the forefront of the response to COVID-19. The Technician Commitment, together with our partners, are delighted to be shining a light on the vital work of technicians throughout the pandemic through the publication of this report. It is key that we recognise their crucial contributions and ensure visibility and support for this key community."
Helen Pain, Chair of the Science Council and Acting CEO of the Royal Society of Chemistry said:
"This report highlights the vital roles of technicians at an extraordinary time for higher education and research. I am thrilled that this body of work has allowed our community to make a number of recommendations to recognise technical expertise and ensure support for technicians as we move forward."
A full copy of the report can be found here.