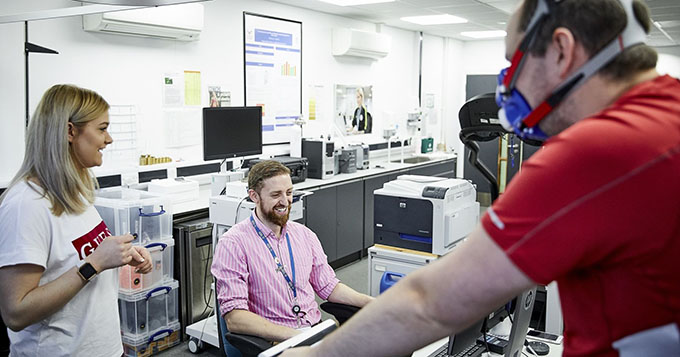 How does a technician survive without a lab?
By Phil Chandler, Manchester Metropolitan University

This blog was originally published on the Technician Commitment website, find it here.

March saw the celebration of my 'techaversary'. Ten years as a technician has gone fast – from not knowing how to turn on any lab equipment to being a technical team leader at Manchester Metropolitan University. I support all teaching, research and enterprise activities in the Human Physiology lab in the Department of Nutritional Sciences. I also have the pleasure of managing the technical team in the Faculty of Health, Psychology and Social Care, and I am fortunate to lead the committee of the technical services TechNet, an initiative which aims to promote networking between technicians at the university.
It's a pleasure being in the lab, as no day is the same. From working alongside academic staff, to supporting a wide range of lab practicals, to helping students collect project data and collaborating with external companies to test the feasibility of their products.
I leave work most days with a smile and my head held high after a productive day, feeling satisfied my lab users have had an excellent user experience. I love lab life. Until I experienced one day like no other before.
Thursday 19th March I, along with all university staff, were sent to work from home (WFH) as the covid-19 pandemic hit our nation. My lab shut. Student research stopped. Lab practicals cancelled. External partnerships on hold. How could I be a technician without a lab?
Not knowing how to WFH as a technician, I realised I was not the only one needing help. Over 200 technical colleagues were in the same position. Some may have better ideas, better methods or better plans to cope with WFH. Therefore, the TechNet committee decided to go digital to create TechNet Chats as an informal platform to search and share advice. We meet virtually every other week to discuss topics chosen by technicians. So far, we have discussed communication between each other and students and plan more chats on coping strategies and how technology can help at home.
Chats has helped technicians discuss a variety of methods to help WFH, but during this unique time ensuring our wellbeing is a vital part of being able to WFH successfully. Therefore, Chats have introduced quizzes to help technicians break from work to relieve tension or pressure caused by WFH and bring shared enjoyment, smiles and laughter into the home working culture.
Chat sessions have led to other technicians creating fun sessions, such as sharing baking recipes, insightful book reads, exercise videos and advice to help technicians be active in mind and body to develop a joyful home working environment.
Chats are going from strength to strength with more technician engagement, increased discussions and ideas. This has empowered others to develop and share their own home working coping strategies.
Together, we have created a digitally connected technical family, searching and sharing best practice to WFH, to encourage and support our friends and colleagues across campus. From home, technicians have bred a positive culture in a tough environment.