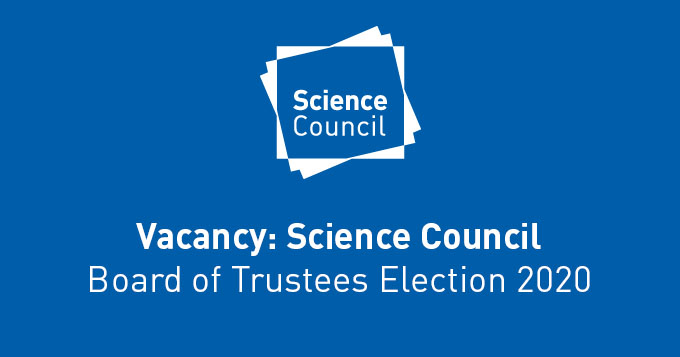 Trustee elections 2020: Would you consider standing?
Increase your influence though Board membership.
We are looking for individuals who want to help grow the Science Council's size, influence and impact; and take a lead on driving up professionalism, standards and encouraging continuous professional development across the science workforce.
Are you ready for the challenge? If so, would you consider standing for election to the Science Council's Board of Trustees?
Whatever your background and expertise, board membership enables you to influence the future direction of the Science Council and have an impact across the whole scientific community.
This year there are two vacancies arising. Board elections take place each year at the Annual General Meeting. The closing date for nominations is Tuesday 21st April.
The Board is particularly keen to hear from people with skills in the following areas (we don't expect to find all of these skills in one person):
Workforce planning/long-term workforce trends; because we want to better understand long-term changes in the world of work to ensure we meet the career needs of the scientific workforce.
Policy networks and influence; because we want to influence science and education policy, and raise the profile of professionalism in science.
Finance and risk management; because we want to safeguard against short and long-term uncertainties and manage our exposure to risk.
Practising scientists of all disciplines; because we want to better understand what practical support the scientific workforce needs from the Science Council and professional bodies.
If you don't have these skills but you believe that your background could be useful to us and you are interested in joining our board, we still want to hear from you.
We want to ensure that our Board is as representative of the scientific workforce as possible. We would therefore particularly like to hear from women, ethnic minorities, younger people, disabled people and marginalised groups.
Applications must be submitted via the online application form.
The candidate recruitment pack provides information about the Science Council and its key projects, and trustees' duties and responsibilities. The pack is also accessible via the online application form.
If you would like to have an informal conversation about the role you can contact the Chair, Dr Helen Pain (painh@rsc.org) and/or the Governance Manager, Oliver O'Hanlon (o.ohanlon@sciencecouncil.org) or 020 3434 2025.
Still need convincing?
If you want to know what it's like being a trustee of the Science Council, read about the experience of former trustees, Dr Bev Mackenzie and Edmund Nickless.