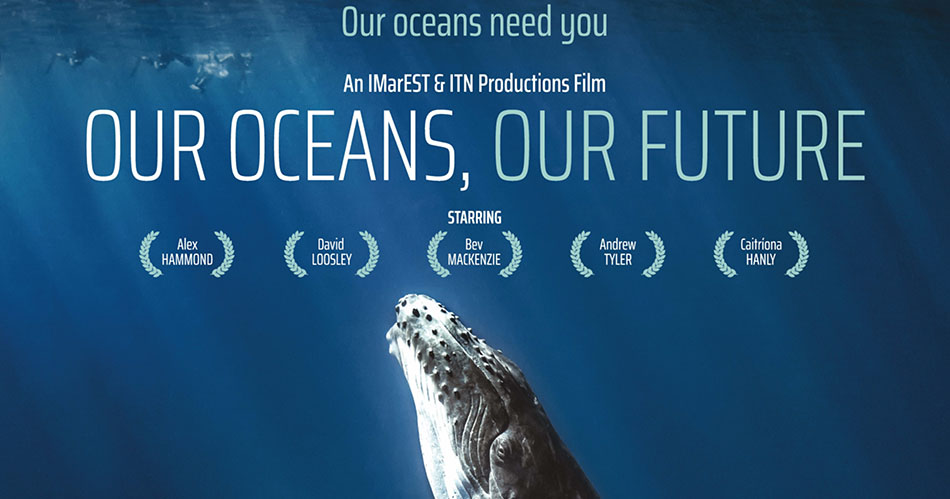 Our Oceans: Our Future – a new film showcasing stories of science and innovation
Science Council member, the Institute of Marine Engineering, Science and Technology (IMarEST) and ITN Productions Industry News have co-produced Our Oceans: Our Future, an industry film that draws attention to the challenges facing the oceans and showcases stories of science, innovation and sustainability that are transforming the marine sector.
The one-hour news and current affairs-style programme investigates the latest global developments in sustainable marine science.  Presented by national newsreader Natasha Kaplinsky, OBE, Our Oceans: Our Future explores how scientists are protecting our oceans, how the industry is engineering more efficient ships, the new technology shaping the future of shipping and renewable energy, how oceanographic data is expanding our knowledge of the oceans and how world-class maritime education is training the next generation of marine professionals.
David Loosely, Chief Executive, IMarEST said: "We really wanted to show the world some of the emerging technologies, engineering solutions and ground-breaking scientific research being undertaken by leading professionals which make the marine sector such an exciting, dynamic and rewarding place to work."
The IMarEST hopes the film will help to create new initiatives and partnerships between ocean leaders and inspire the next generation of marine professionals who will be essential to solving the biggest problems facing the planet today.
The programme premiered at the Royal Institution, London on 20 November 2019, drawing an international and diverse array of participants such as the International Maritime Organization, the UK Commonwealth, World Wide Fund for Nature and Zoological Society of London, demonstrating the tireless work of marine professionals worldwide who are finding new ways to sustainably manage ocean resources.
Vicki Clubley, Head of Industry News, ITN Productions, said: "We're delighted to be working in partnership with the IMarEST to create a programme which we hope will be a comprehensive tool to deepen understanding, encourage cooperation and will bring influencers together to reach solutions that lead the way in protecting our oceans for future generations."
The programme combines key industry interviews, reports and partner sponsored editorial profiles from the following organisations and forms part of an extensive communications campaign featuring IMarEST members, industry partners, government partners, as well as journalists and writers:
Australian National Centre for Ocean Resources and Security (ANCORS)
City of Glasgow College
Lloyd's Register
Maritime New Zealand
Norwegian University of Science & Technology
Southampton Marine & Maritime Institute
Ocean Networks Canada
Tidetech
University of Michigan
Group