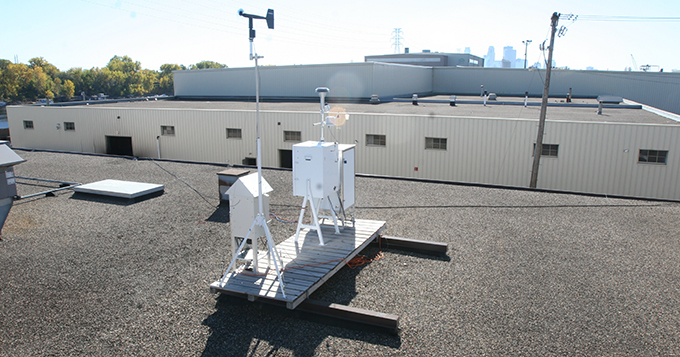 A breath of fresh air: becoming a Chartered Scientist
By Chartered Scientist Laurence Caird, Associate Director, Air Quality Consultants Ltd
It is an interesting and exciting time to be involved in the world of air quality; public and political desire to take action to improve urban air quality for the benefit of health has never been higher. As an air quality professional, this gives me perspective on the career path I've taken and the future it holds.
Pre Chartership
I completed an Earth Sciences degree at the University of Manchester in 2005 and in my final year, inspired by a senior lecturer in the department, I took on a research project examining urban air pollution. The project introduced me to atmospheric science and air pollution and set me on a pathway that would define my career. Soon after graduating I secured my first job in air quality consultancy and nearly 15 years later I am an Associate Director at Air Quality Consultants Ltd. My role involves managing the completion of air quality assessments for a wide range of purposes, many linked to new developments, which includes small schemes such as residential and commercial developments, to much larger strategic and infrastructure projects such as new road schemes or airport expansion projects.
At an early stage in my career, I joined the Institute of Air Quality Management (IAQM) and its parent organisation the Institution of Environmental Sciences (IES). I was familiar with the IAQM as a key organisation responsible for delivering guidance documents that define much of the work that I do on a day to day basis. Membership of the IES and IAQM has offered me the opportunity to get involved with the development of new guidance, therefore applying the science and knowledge I have learned throughout my education and career to help progress and develop the industry that I work in.  I find being involved in the development of such documents and standards for good practice is incredibly valuable and rewarding. Membership of the IES and IAQM has also helped further my career by giving me the opportunity to present in front of peers at conferences and to build relationships with other air quality professionals with whom I am able to collaborate and share knowledge and ideas.
Applying for CSci
Working as an air quality consultant requires the application of science every day, which is why the Chartered Scientist award was very appealing to me. I realised, no doubt like many others, that academic qualification and recognition is important, but a Chartership demonstrates a competence in applying learned knowledge in a professional environment. I completed my CSci application in 2011 and have held the Chartership ever since. I distinctly recall the application process itself opening my eyes to the ways of applying my scientific knowledge within my consultancy role and since becoming Chartered, I have found more than ever that I approach my career with a fundamentally scientific perspective and work hard to continue developing my scientific understanding and apply it to my work.  In my personal view the CSci Chartership holds a certain gravitas compared to professional memberships alone.
The future as an air quality professional
The next 5 to 10 years are going to be a very interesting time for the world of air quality. The public concern about the negative health effects of air pollution continue to gather momentum and coupled with calls for action on climate change, this is likely to lead to significant pressure on governments and organisations to take action. However, air quality issues cannot simply be solved through the actions of a government alone, but require a collaborative response from central and local government, employers and businesses, and importantly, individuals. Being a qualified scientist in the air quality industry will undoubtedly unlock opportunities to help guide and educate people into reducing emissions and exposure to air pollution, to implement measures and technologies to improve air quality, and to create a better environment in which for us all to live.
Image: Air monitoring equipment in Minneapolis, similar to that used in the UK. Credit: Minnesota Pollution Control Agency, (CC BY-NC 2.0)