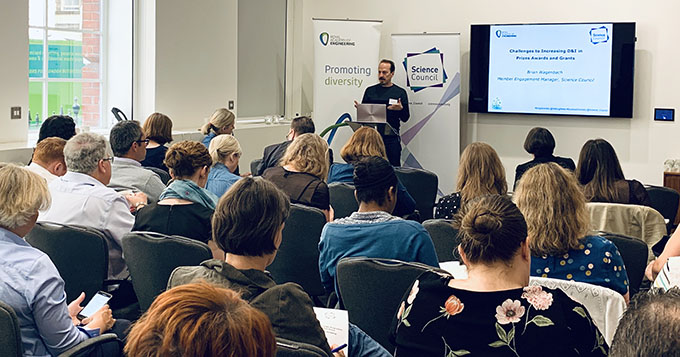 A successful Prizes, Awards and Grants workshop
A Prizes, Awards and Grants workshop organised by the Science Council and the Royal Academy of Engineering took place on 16th May to support diversity and inclusion progress across science and engineering professional bodies.
45 delegates from a wide range of professional bodies, both from within the Science Council membership and outside of it, learnt about examples of good practice in different organisations. Some organisations have undertaken fundamental reviews of their award programmes and implemented other changes including:
Changing the names of some awards so they are now named after women
Including forenames to raise the visibility of these women
Sending targeted emails to encourage nominations
Including positive statements welcoming and celebrating the diversity of the scientific community
Recognising the importance of team working and collaboration
Ensuring committee members complete unconscious bias training.
Delegates also took part in group discussions about what challenges they face to increasing diversity and inclusion in prizes, awards and grants and looked at what they could do to influence change in the prizes and awards cycle. Some of the challenges noted were:
In a small organisation, breaking data down can easily identify individuals
Challenging the existing system
Challenges in collecting / analyzing data for international organisations (e.g. ethnic minority in the UK is not necessarily so in Europe)
Including D&I ambassador on all committees
Previous winners can influence nominations
Changes to awards criteria – e.g. age, membership status, can reduce opportunity for inclusion
Entry process is communicated clearly but no transparency of judging panel / process for many awards
Legacy judges of awards mitigate against diversity.
'I was delighted with the enthusiastic participation in the workshop. Everyone had something to contribute, and I think everyone took a useful idea away for their action plan. There was real energy and commitment to the Progression Framework in the room, from the wide range of science bodies' and professional engineering institutions' representatives.'

Rosemary Cook
Chair of the Progression Framework Implementation Group
A workshop focusing on education, training and accreditation and examinations will take place on the 16th September.
Helpful resources about diversity and inclusion can be found on our Diversity and Inclusion Implementation Steering Group page. The page also has information about the Diversity and Inclusion Progression Framework which was developed in collaboration between the Royal Academy of Engineering and the Science Council to progress diversity and inclusion, and help professional bodies track and plan progress across important areas of their acitivity.
Thank you to the Institution of Engineering and Technology (IET) for hosting the workshop.