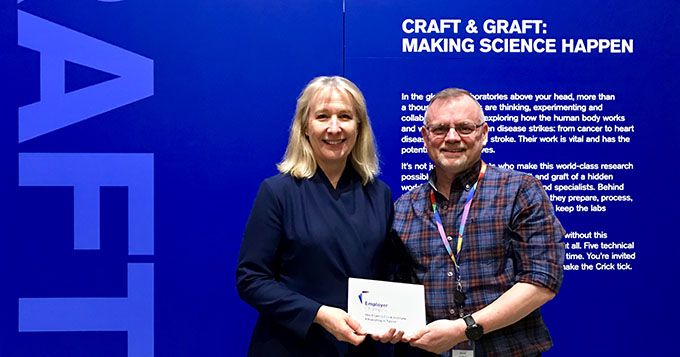 Francis Crick Institute receive Employer Champion Award
The Francis Crick Institute received its Employer Champion Award from the Science Council on the opening day of its new exhibition, Craft & Graft: Making Science Happen.
A presentation event was held in the exhibition space at the Institute on 1st March 2019. Dr David Hudson, Crick Science Training Lead, gave a speech to attendees before being awarded with the Employer Champion plaque by Helen Gordon, Chief Executive at the Science Council.
Employer Champion status is awarded to organisations as a mark of their dedication to the quality and practice of science through the professional development and registration of their scientific staff. The Francis Crick Institute now join King's College London, the Medical Research Council, Newcastle University, the University of Nottingham and many other organisations as Science Council Employer Champions.
Scientific staff receiving professional registration awards. Copyright Francis Crick Institute
A number of scientific staff also received awards for achieving professional registration. Professional registration demonstrates a commitment to professional standards, to developing and enhancing your skills, and establishes your proven knowledge, understanding and competence.
"It was a pleasure attending the Francis Crick Institute to recognise technical staff for their achievements and to congratulate the organisation for becoming an Employer Champion. My personal congratulations to Dr David Hudson and the technicians who were presented their certificates. I also enjoyed visiting the Craft & Graft exhibition which offers a unique insight into the work of technical staff at the Institute and also the various career paths that colleagues there have pursued. Do pay a visit!"

Helen Gordon, Chief Executive at the Science Council
The Craft & Graft exhibition was launched as part of the Technician Commitment, for which the Francis Crick Institute became a signatory in 2017. The exhibition focuses on five key teams whose technicians perform vital and specialist functions around the building. Craft & Graft is free to attend and runs until 30th November 2019.
At the launch of the exhibition, the Francis Crick Institute's Director Paul Nurse warned of the impact that the UK's post-Brexit visa system could have on technicians. The Crick employs 577 technical specialists across the institute – around half of the scientific workforce. They perform a wide range of vital tasks, from washing scientific glassware to running complex experiments, and 71% (408) are 'skilled' according to the UK government definition.
The government is currently consulting on post-Brexit immigration policy, including a minimum salary threshold of £30,000 before granting a skilled worker visa. The starting salary for many skilled technical roles at the Crick is £27,000, and salaries for lower skilled technicians and those who work outside of London can be significantly lower. Data from the Russell Group indicates around 27% of skilled technicians at their universities across the UK earn £25,000 or less. Read the full article on the Francis Crick Institute's website.