University of Nottingham Science Council Employer Champion Award
Congratulations to the University of Nottingham formally presented with a Science Council Employer Champion Award in recognition of their support for the continued professional development and professional registration of technical staff. This was presented to the Vice-Chancellor, Shearer West, by Professor Patrick Kniveton, Trustee of the Science Council at the recent launch of the University of Nottingham's Vision for Technical Talent. Congratulations to the University of Nottingham for spearheading the Technicians Commitment and as a founding signatory blazing a trail with the launch of the –Vision for Technical Talent Strategy.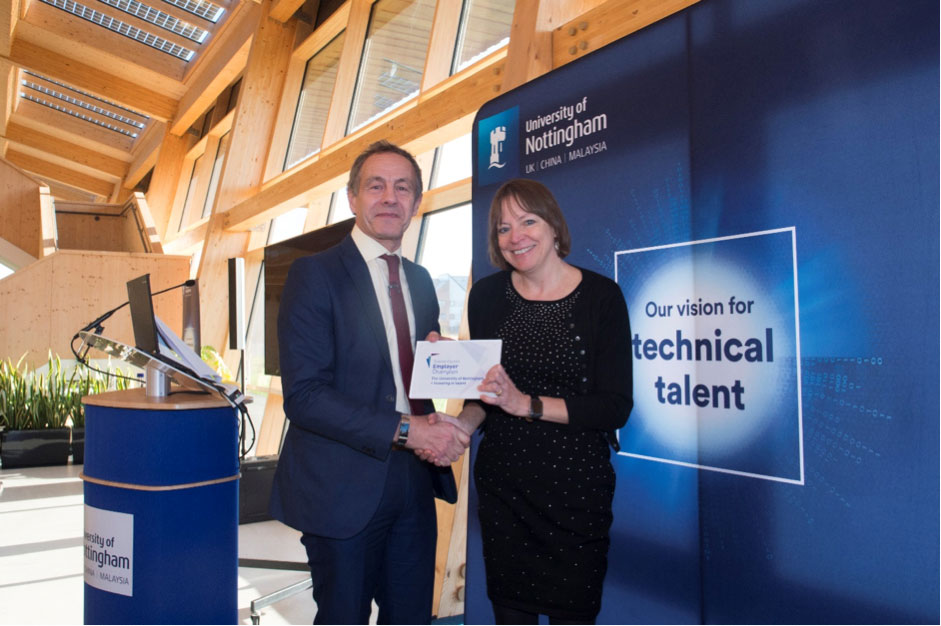 University of Nottingham Launch – Vision for Technical Talent
The President and Vice-Chancellor Professor Shearer West launched the new strategy entitled 'Our Vision for Technical Talent' and presented some key areas of progress.
Technicians on Film
View a short film made in celebration of technical colleagues was previewed at the event.
Technical Talent in Formula One
The University of Nottingham welcomed James Key, Formula One Technical Director to the event. James was one of the youngest Technical Directors of a Formula One team, at the age of 33 years and is a University of Nottingham Alumnus (Mechanical Engineering, 1996). James has spent his working life developing innovative technical solutions for a number of Formula One teams including Lotus, Jordan, Sauber, Force India and Scuderia Toro Rosso. James gave a fascinating talk on the roles of technicians in motor sport and higher education and drew on personal experiences to convey the impact of technical skills and expertise.
Showcasing our Technical Talent
Speeches and presentations were followed by a poster session where technical colleagues from across the University presented aspects of their roles and activities to internal and external guests. This offered an opportunity for networking and festive refreshments.
Keep in touch with progress on the new Vision for Technical Talent strategy from the University.