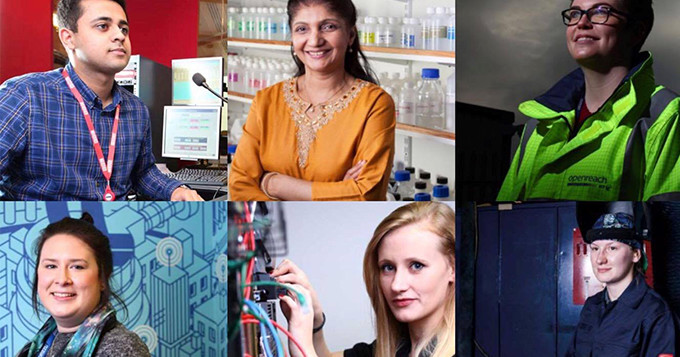 Photography exhibition captures the UK's hidden workforce
A collaboration between Lord Sainsbury's Gatsby Foundation and renowned photographer Leonora Saunders, has captured the makers, creators and designers that we rely on but often overlook.
Technicians are the lynchpin of our economy and yet we continue to face a chronic technical skills shortage in the UK. As we march towards Brexit, it will be the nation's technicians working behind the scenes to support our NHS, improve railway infrastructure, and revolutionise digital technology to keep us on track. To champion Britain's technical workforce, the Gatsby Foundation launched Technicians Make it Happen in 2016, and its latest offering is a new photography exhibition that captures real people working across industries: from theatre and education, to healthcare and fashion.
The campaign seeks to inspire the nation's next generation of makers and creators and celebrate the 1.5 million technicians working across the UK.
Michelle Rea, Gatsby Education team, said:
"We want to show people the wealth of careers they can unlock by training as a technician. University not for you? No problem, with a technical education course or an apprenticeship you could become a technician and help build a better future."
To bring these stories to life, London-based photographer Leonora Saunders has captured striking images of technicians from a wealth of backgrounds to show that they are not limited to the lab.
Michelle Rea, Gatsby Education team, said:
"We have case studies from the technicians who are leading on ground-breaking neuroscience research, as well as case studies from award-winning textile technicians. There's a role to suit everyone. There really has never been a better time to become a technician."
More than forty industry leaders have backed the campaign, including the BBC, the National Theatre and Amey who are keen to help plug the growing skills shortfall.
The exhibition kicks off on 28th September at New Scientist Live, a festival of ideas at ExCeL London. One of the Science Council's Registered Scientists, Samantha McCormack, will also be featured in the exhibition. Visitors can expect to be inspired as Technicians Make it Happen demonstrates a range of roles for those looking to build their future. The exhibition will then go on tour over the next year.
Technicians Make it Happen will be joined by The Science Council, Royal Academy of Engineering and The Chartered Institute for IT at the launch event. Each organisation will be inviting technicians from their industry to tell stories about the incredible work they have been part of during their career.