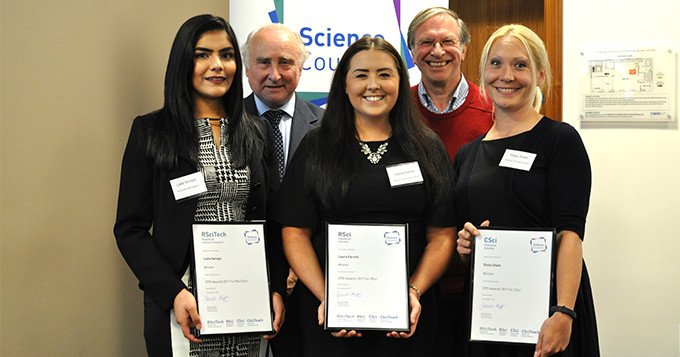 CPD Award winners 2017 announced
On 21 September, winners of the Science Council's CPD Awards were invited to a ceremony generously hosted by CIWEM in London to celebrate their achievements.
The annual CPD Awards is designed to celebrate the continuing professional development (CPD) efforts and achievements of Registrants from across the registers: Registered Science Technician (RSciTech), Registered Scientist (RSci), Chartered Scientist (CSci) and Chartered Science Teacher (CSciTeach). Now in its third year, the awards offer them recognition for their broad and diverse range of professional activities.
To be a winner or to be awarded a commendation for the CPD Awards demonstrates an individual's commitment to undertaking work-based learning and self-directed learning at a high, exemplary standard in order to benefit the quality of their practice and to benefit colleagues, patients, clients or any other users of the service they provide.
Science Council Chair, Professor David Croisdale-Appleby, presented winners with their certificates and each winner delivered a short presentation about the impact that CPD and professional registration has had on their career.
Laila Soraya was announced as winner of the CPD Award for RSciTech. As an Assistant Scientist at the National Laboratory Service (NLS), part of the Environment Agency, she hopes her achievement can inspire other technicians:
"I am overwhelmed with gratitude to receive the best RSciTech CPD award. Thank you to the IST for putting me forward for this award, the Science Council for choosing my CPD and offering recognition to technicians like me. It is an honor that my work has been recognised by such great organisations. I hope this recognition of my work can serve as an inspiration to others in the field."

Laila Soraya RSciTech
The CPD award for RSci was awarded to Laura Farrell, who is a Research Technician at The University of Manchester's Stoller Biomarker Discovery Centre. Laura discussed her approach to CPD:
"I believe successful CPD should be initiated by the individual, be of personal interest and of course relevant to their future career."

Laura Farrell RSci
Daisy Shale, who is a Biomedical Scientist and Senior Medical Examiner at the Northern General Hospital, won the CPD Award for CSci. In her presentation she explained:
"I'm proud of the knowledge and skills that I've acquired along my career journey. By taking ownership of my CPD it has made me realise there's always something more to learn. Having a Chartered Scientist status is a standard I can work towards and it makes me work towards being the best that I can be, not just for me but for the patients and the users of the service that I provide."

Daisy Shale CSci
Winner of the CSciTeach CPD Award, Dr David Overton, who is a Lecturer at Monash University in Australia was unable to attend the ceremony but said:
"CSciTeach and the CPD element has really allowed me to focus in my quest to promote science education to a wide range of people. It is gratifying that such reflection on my practice and the CSciTeach badging has helped me to gain credibility and trust amongst fellow practitioners in several countries but principally in the UK and Australia. In short, I feel that the CSciTeach related CPD template has provided the rigour to enable me to remain at the 'cutting edge' and to retain my enthusiasm for science teaching."

David Overton CSciTeach
Awards announced on the night are listed below.
CPD Award Winners
RSciTech: Laila Soraya, member of the Institute of Science and Technology
RSci: Laura Farrell, member of the Institute of Science and Technology
CSci: Daisy Shale, member of the Institute of Biomedical Science
CSciTeach: David Overton, member of The Association for Science Education
CPD Award Commendations
RSci: Claire Hutton, member of the Institute of Science and Technology
RSci: Nicholas Dunn, member of The Association for Science Education
CSci: Lindsay Peer, member of The British Psychological Society
CSci: Mohamed El-Guindy, member of the Institute of Science and Technology
CSciTeach: Nicholas Girdler, member of the Royal Society of Biology
This is the first year that nominations for the CPD Awards have been opened up to self-nominations and it is the first year that judges from outside the science sector have been involved in the judging panels. Our two external judges: Richard Williams from the Solicitors Regulation Authority and Simon Bowen from the Chartered Management Institute brought a wealth of CPD expertise from their respective professions.
Photo (L-R): Laila Soraya RSciTech; Professor David Croisdale-Appleby, Science Council Chair; Laura Farrell RSci; Trevor Lewis, Chair of the Science Council's CPD Learning Group; Daisy Shale CSci.